Moi Qatar Traffic Violations Check
Keep calm and drive safely" It is not just a line. But it has a deep meaning for a safe journey. Also a warning to those drivers who never pay attention to such signboards while driving on the roads and they got a Moi traffic violation ticket as result in Qatar.
Traffic rules in Qatar have great importance and these rules are updated day by day for the betterment and safety of the people on the road. So, if you are responsible for breaking any rule on the road while driving. You will have to face heavy fines, imprisonment, or both, depending on the seriousness of the misdeed.
So, if you are stuck in Qatar traffic violations and face the circumstances. You can get help from this post as we deeply discussed. The steps to help you and you can follow these steps to resolve all the issues.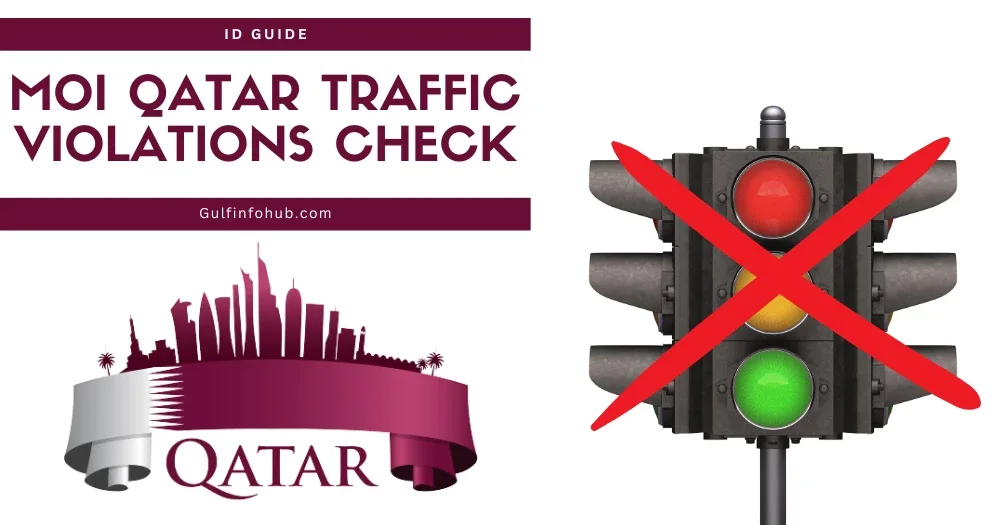 Suggested post: Qatar Traffic violations payment
In this guide you will find the fastest way to get rid of this situation. Also come to know the procedure to check traffic violations online and resolve the MOI traffic violation.
Fixing the MOI traffic violation is such a simple and straightforward process.
If you get a traffic violation ticket, you can pay the fine online by using the Ministry of Interior's website. You can also settle it by visiting a designated Traffic Department location by yourself. You will also learn how you check traffic violation details online.
How to check traffic violations in Qatar?
There are two ways to Moi Qatar Traffic Violations Check. You can Check MOI traffic violations using the Metrash Mobile App or the MOI website and the procedure is so easy as well. Here we will discuss them in detail so that you can get help by following the steps.
Check Traffic Violations through MOI Website
If you are not able to install and use the Metrash2 mobile app then it is best for you to check them online from the MOI traffic website. Following are the main steps you can use to check traffic violations through the MOI website in Qatar.
Step 1: Go to the official Qatar traffic violation website.
When you Go to the official page of MOI traffic inquiries the following page will appear on your screen.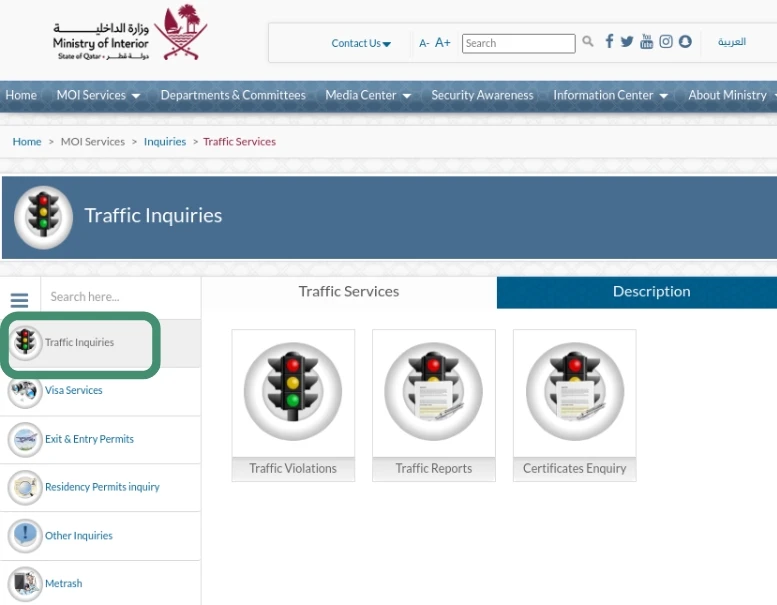 Step 2: Click the option "Traffic Violations".
By clicking on the "Traffic Violation" button you will see the following traffic violations inquiry page.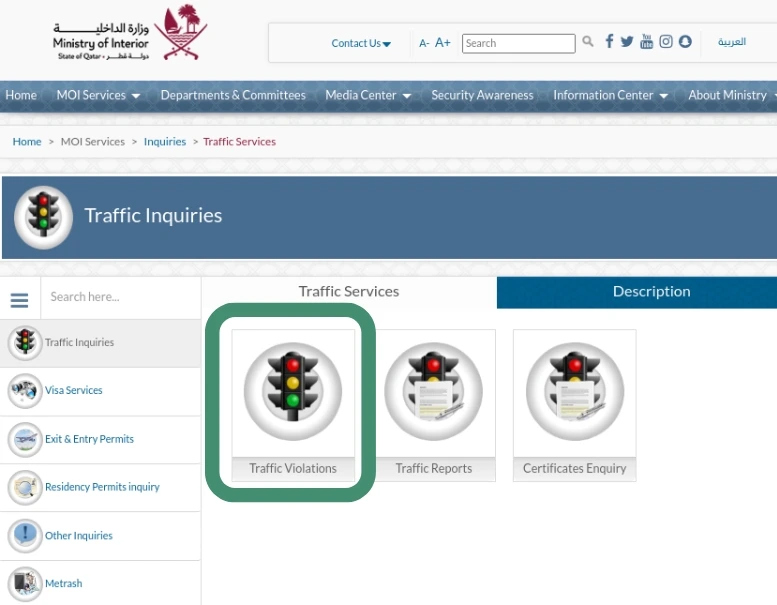 Step 3:Enter Specifics
On the traffic violations inquiry page, you can enter all the specific details. Vehicle numbers, company ID numbers or QID will be more helpful for you to find open tickets.
Plate numbers can also be used to check traffic violations and there is an additional option available as "Foreign Vehicles". Which you can use in case your vehicle is not registered in Qatar.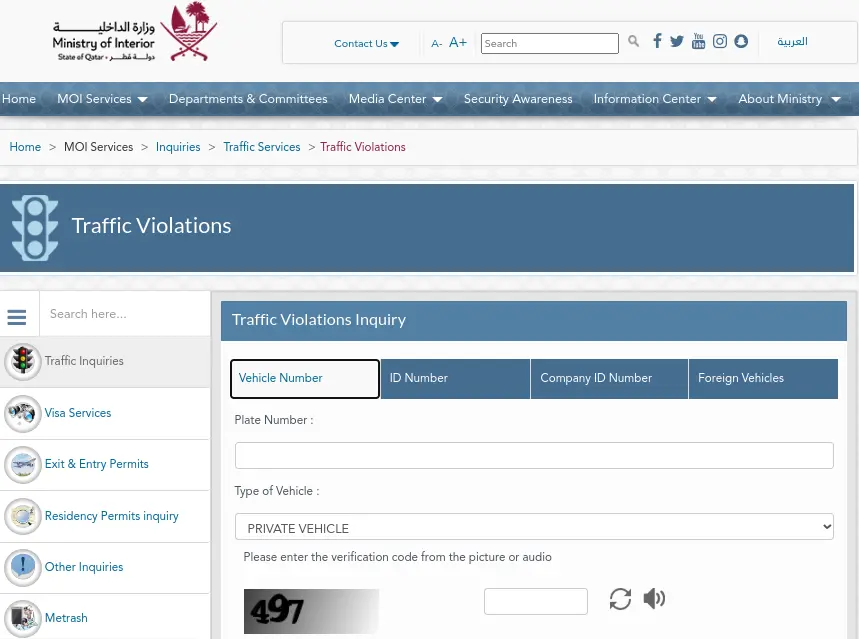 Step 4:Learn More About the Violation
After putting all the required details in the related field, click on the icon "submit" and you will get all the details regarding your traffic violation in Qatar.
That is it. By following the above steps now you will be able to check your traffic violation in Qatar online through the official MOI website.
Check Moi Traffic Violations through Metrash Mobile App
Metrash is a mobile app created by Qatar's Ministry of Interior that offers a variety of services related to residency, visas, and traffic violations.
By using this app, you will be able to pay fines and track your traffic violation status online. You can also appeal for a travel permit if you are facing a traffic violation situation and need to fix it before quitting the country. Here are the simple steps you need to follow to check traffic violations via Metrash Mobile App.
Step1: Log in to the Metrash2 App
The procedure to log into the mobile app is very easy. You just need to follow some steps which are as follows:
Simply download the Metrash app through Google Play Store or Apple App Store.
Start this app on your phone.
Two options will appear on your screen "Smart Card" and "Username and Password".choose any appropriate option.
By clicking on the "Smart Card" option you have to pop your Qatari ID card into the card reader. Which is connected to your mobile device. When your card is conceded you need to enter your 4 digit number to access the app.
And if you click on the icon "Username and Password" you have to enter your Metrash password and username that you created earlier.
After successfully logging in, you will be taken to the Metrash home screen, where you can access the app's various services.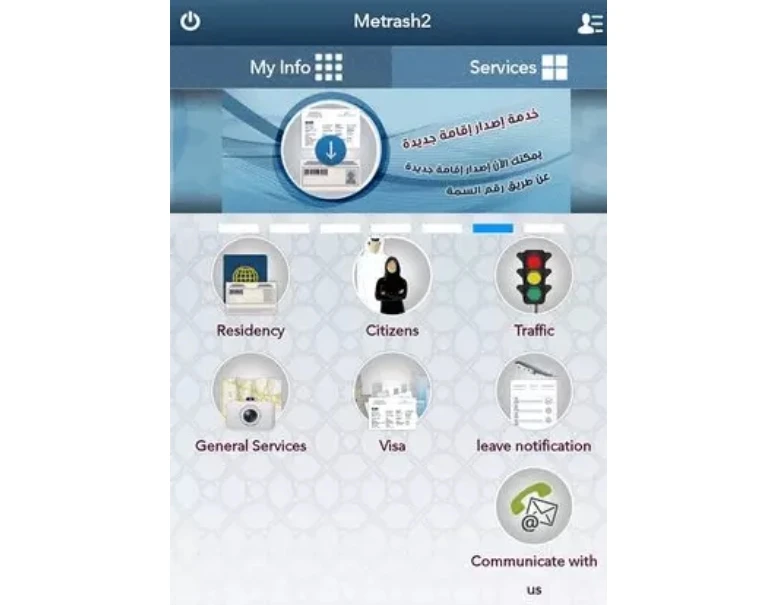 Note: You have to be a resident of Qatar to use this app and a valid Qatari ID card.
Step 2: Identifying the Traffic Icon
You will see the "Traffic" icon on the screen. By clicking on this icon you will be able to check traffic violations in Qatar.
Step 3: Examine for Traffic Violations
en you open up the traffic page, "Violation Service" icon will appear on the screen. By clicking this option you will land on the next page where you will see other types of violations in which Violation images, Query/Traffic Violations, and Violation Objection are all included.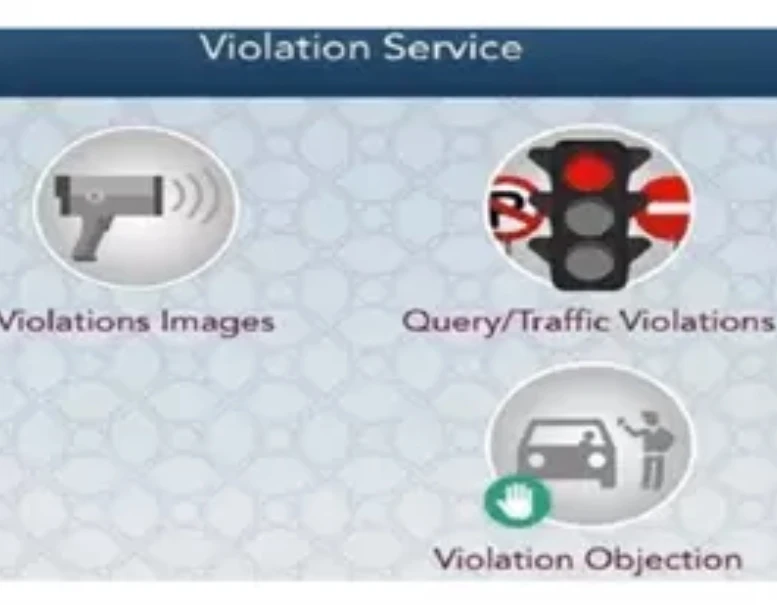 you need to click the "Query/Traffic Violations" icon for the details about your traffic violation ticket.
Step4: Enter Details
Now you can enter your Qatar ID or plate number to search for the details of traffic violations.
This page will display all traffic violation information, including open tickets based on the information provided.
If there are no violations, the expiry date of your vehicle's registration card will be displayed which is called Istimara.