Online Traffic Fine Check For Moi Kuwait – Finding Out About Violations
Instead of using a person's ID, Kuwaiti traffic penalties are often tied to the vehicle's license plate number. The owner of the vehicle is often held liable for paying the fine connected with the infraction when it occurs. If you are looking for an online traffic fine check for Moi Kuwait, then don't worry; we are here with a guide that will help you in this matter completely.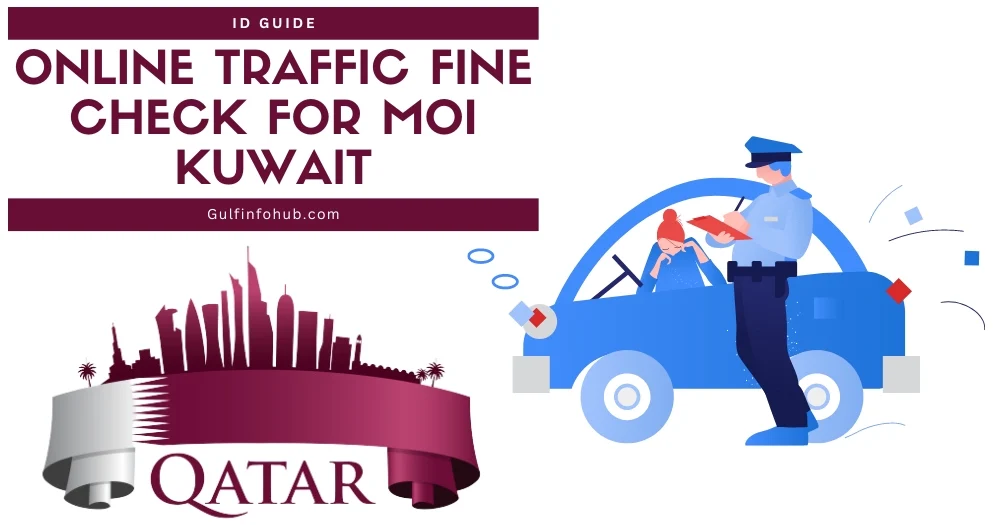 Both Kuwaitis and foreigners living in Kuwait must pay any traffic penalties right once to avoid any future problems. Unpaid fines may result in more severe punishments, such as higher fines, the impediment of a vehicle, or trouble renewing a vehicle's registration. To ensure adherence to traffic laws and prevent any issues, it is advised to routinely check and pay any outstanding fines related to your vehicle.
Traffic fines in Kuwait
The term "Kuwait traffic fines" describes the punishments meted out by the Kuwaiti government to anyone who breaks the country's traffic laws and regulations. These penalties are imposed on those who engage in numerous traffic infractions, including speeding, running red lights, reckless driving, operating a vehicle without a license, using a mobile while operating a vehicle, failing to buckle up, and other similar offenses.
The rules and legislation for traffic management and safety in Kuwait are determined by the Ministry of Interior's Traffic Department. When someone is found guilty of breaching traffic laws, the department prosecutes them and fines them. The penalties are intended to deter risky driving practices and advance traffic safety.
The kind and seriousness of the offense determine the fine amount. Based on the applicable laws, the Traffic Department changes the fine amounts on a regular basis. Because Kuwaiti traffic fines might fluctuate, it is always essential to check official resources, such as the Traffic Department's website or local authorities, for the most precise and recent information about certain fines.
How to find out whether you owe any penalties
You can use any of the methods outlined below to see if you owe any penalties in Kuwait:
Online Check:
You may check for any outstanding penalties related to your car on an online portal provided by Kuwait's Ministry of Interior or Traffic Department. Look for the section on traffic penalties on their official website. The system will reveal any unpaid penalties when you enter your Civil ID number or the number plate number of your car as directed.
Mobile Apps:
The Kuwaiti government may provide mobile applications that let you look up outstanding penalties. Download the official app offered by the Traffic Department or the Interior Ministry, log in if necessary, and follow the on-screen directions to check your fines. To examine any outstanding penalties related to your record, provide the appropriate data, such as the number plate number of your car or your Civil ID.
SMS Service:
A text message containing the number plate number of your car can be sent to a specific number using the SMS service provided by several businesses in Kuwait. You will then get an SMS with details about any outstanding tickets associated with your car.
In-Person Inquiry:
Additionally, you can call one of their support centers or go in person to the Traffic Department to ask a question. You may check if there are any outstanding penalties linked with your record by giving them the number from your vehicle's number plate or your Civil ID.
Different Ways to pay traffic fines in Kuwait
There are various ways to pay traffic penalties in Kuwait. Here are a few such approaches:
Online Payment
Mobile Apps
Self-Service Kiosks
Banks
How to pay Traffic fines online in Kuwait
To pay traffic penalties online in Kuwait, you can follow these general steps: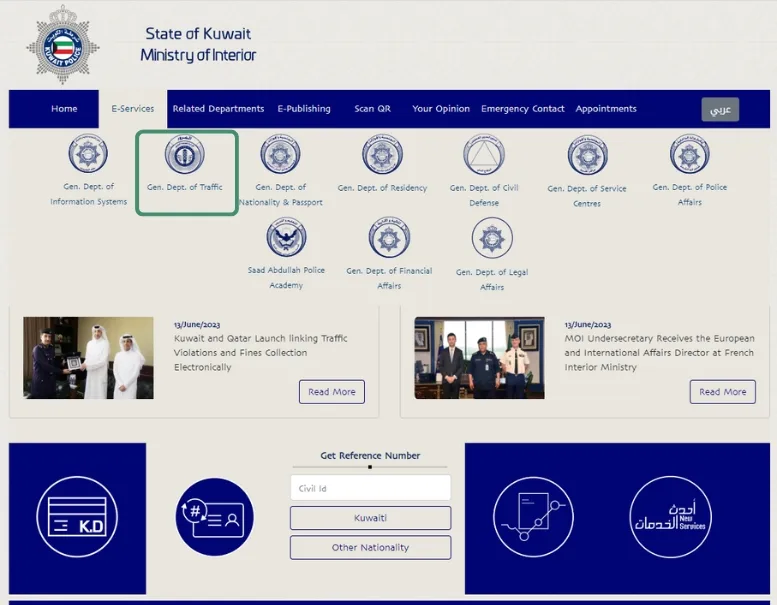 Go to the official website of the Kuwaiti Traffic Department or the Interior Ministry.
On their internet portal, look for the area relating to traffic fines or e-services. The section usually displays prominently on the homepage or becomes accessible through a main menu, although its precise location may change.
You should be able to pay penalties online by visiting the area for electronic services or traffic fines. Click on this selection to proceed.
You may be requested to give some details to see your penalties. This might contain your Civil ID number, car license plate number, or other needed data. Enter the requested information accurately.
Once you have provided the necessary information, the system should display any outstanding fines associated with your record.
Choose the fines you want to pay. The system may provide options to pay individual fines or to pay multiple fines at once.
Select your intended payment type. online payment choices might include credit/debit cards, online banking, or additional digital payment methods.
To finish the payment process, adhere to the system's instructions. This may entail entering your payment details, verifying the payment amount, and completing the payment.
Once you successfully process the payment, the system will provide you with a confirmation of payment. It is recommended that you retain a copy of this verification for your reference.
Note: Please note that the specific online payment system used by the Kuwaiti authorities may change the steps and process. You can always find the most precise and current instructions for paying traffic fines online in Kuwait on the official websites of the Ministry of Interior or the Traffic Department.
How to pay traffic fines in Kuwait through Mobile Apps?
Kuwait will launch its "MOI Kuwait" (Ministry of Interior Kuwait) mobile app in September 2021, allowing users to access a variety of services, including paying traffic penalties. Both Android and iOS smartphones may download the MOI Kuwait app.
The typical methods for paying tickets for traffic violations using the MOI Kuwait app are as follows:
Install the latest version of the "MOI Kuwait" app via the Google Play Store (Android) or the App Store (iOS).
Open the app, if necessary, and create an account. You may need to provide your personal information and create login credentials.
Once you've logged in, go to the app's area or option for paying for traffic fines. The location of this component inside the app may change.
You ought to be able to examine any outstanding penalties connected with your car or personal records under the area for traffic infractions.
Then, move on to the payment step after choosing the fines you want to pay.
Select your preferred payment option from the app's selection of credit/debit cards, mobile wallets, and other online payment methods.
To finish the payment procedure, follow the instructions and provide the necessary payment information.
After the payment is successfully processed, the app should provide you with a payment confirmation.
Note: Please keep in mind that the availability and functionalities of individual mobile applications may change over time. As a result, it is advisable to check for the most recent information and download the official MOI Kuwait app from the appropriate app store to have access to the most up-to-date services for paying traffic fines in Kuwait.
How to pay traffic fines in Kuwait through Self-Service Kiosks
You can also pay traffic fines in Kuwait using self-service kiosks by following these general steps:
You should look for a self-service kiosk in a variety of locations around Kuwait, including shopping malls, government service centers, and dedicated kiosk zones. Look for a kiosk that accepts traffic fee payments.
Approach the kiosk: Once you've identified a self-service kiosk, approach it and become acquainted with its UI
Choose a language: The kiosk may provide several language options. To begin, select your chosen language.
Navigate to the payment option for traffic fines: The primary menu of the kiosk should include an option for traffic penalties or payments. To begin the procedure, select this option.
Enter the following information: The kiosk may request information from you, such as your vehicle's number plate number or your Civil ID number. Enter the relevant information precisely.
View the following outstanding fines: Any outstanding penalties related to your record should be shown on the kiosk. Make a list of the fines you intend to pay.
Fines to be paid: Use the touchscreen or the buttons for navigation on the kiosk to pick the fines to be paid. If you have many penalties, you may be able to pay them all at once or pay them individually.
Select a payment method: The kiosk will most likely provide a variety of payment alternatives. Cash, credit/debit cards, and electronic payment methods are examples of these. Choose your chosen mode of payment.
Note: Keep in mind that the method and options accessible on self-service kiosks can vary significantly depending on the kiosk and its interface. It is suggested that you obey the on-screen instructions supplied by the kiosk and, if necessary, get assistance from the kiosk operator.
How to pay traffic fines in Kuwait through banks?
You may pay traffic penalties in Kuwait through banks by following these general steps:
Not all banks in Kuwait may accept traffic fee payments. Inquire with your bank for a list of partnering banks that offer this service.
Go to the nearest participating bank branch that accepts traffic fee payments. Bring your Civil ID, car registration, and any other necessary papers.
Inform the bank employees that you wish to pay your traffic penalties. They will walk you through the steps and support you as needed
The bank will request appropriate information, such as your Civil ID, car registration, or any other identifying or vehicle-related information needed for the payment.
The bank personnel will use the system to check for outstanding penalties on your car or personal records. Check the fines for correctness.
Choose the fines you want to pay from the list supplied by the bank. If you have many penalties, you can pay them all at once or pay individual charges.
The bank will accept cash, credit/debit card, or electronic money transfer as payment options. Select your desired mode of payment.
Give the bank employees the relevant payment information or the cash amount. They'll process your payment and provide you with a receipt as evidence of payment.
It is critical to save the payment receipt as proof of payment for your records.
Note: Keep in mind that the particular stages and procedures may differ based on the participating bank and its processes. For further information on paying traffic fines using your bank's unique payment options, contact your bank directly or visit their website.
Kuwaiti traffic fines
In Kuwait, traffic fines vary based on the type of offense committed. The following are some instances of common traffic penalties and associated fees:
Speeding violations:
Depending on the severity of the infraction, the punishment for exceeding the allowed speed limit may range from 10 KD to 100 KD.
Red light violations:
Running a red light usually results in a fine of 100 KD.
Seatbelt violations:
Failure to use a seatbelt may result in a fine of 10 KD.
Driving without a valid license or vehicle registration:
Driving without the necessary documentation can result in fines ranging from 10 KD to 50 KD.
Illegal parking:
Fines for parking offenses range from 5 KD to 20 KD, depending on the severity and location of the infringement.
Using a mobile phone while driving:
Using a cell phone while driving might result in a 30 KD fine.
Note: It's worth noting that these are only broad instances, and the real penalty may have changed after my knowledge cutoff. There may be other particular breaches and costs that are not stated here.
To obtain the most current and correct information on traffic fine costs in Kuwait, it is best to visit authoritative sources such as the Ministry of Interior or the Traffic Department or to examine the applicable laws and regulations regulating traffic penalties in Kuwait.
Request for Traffic Fine Reduction
Under specific conditions, it is possible in Kuwait to request a reduction or discount on traffic penalties. A formal request for a fine reduction must be sent to the Traffic Department or competent authorities, together with supporting evidence. The decision to award a reduction, however, is at the discretion of the authorities, and there is no certainty that one will be accepted.
The following are examples of instances in which a fine decrease may be considered:
Financial hardship:
If you are experiencing financial difficulty, you may be eligible for a decrease based on your financial situation. Proof of income, financial statements, or other related papers may be requested as supporting documentation.
Administrative errors:
If you have proof that the traffic charge was imposed due to an administrative error or mistake, you can request that the fine be reduced or withdrawn. This might include giving evidence or paperwork to back up your argument.
Extenuating circumstances:
In rare situations, a decrease may be considered if you can establish other factors that led to the violation, such as a medical emergency or an unanticipated event. It will be important to provide supporting proof or paperwork.
Note: It's crucial to remember that the method and standards for requesting a fine reduction differ, and the final decision is made by the authorities. To understand the exact processes and conditions for obtaining a fine reduction in your circumstance, check with the Traffic Department or seek legal counsel.
Guidelines to prevent traffic fines in Kuwait
Here are some pointers to assist you avoid traffic penalties in Kuwait:
Observe traffic laws:
Acquaint yourself with Kuwait's traffic rules and regulations, and be sure you adhere to them at all times. Speed restrictions, traffic lights, and road signs must all be followed.
Wear seatbelts:
Make certain all of the passengers in your car are wearing seatbelts. It is not only required by law, but it is also critical for your protection.
Avoid mobile phone use:
Unless you have a hands-free device, avoid using your phone while driving. Using a smartphone without a hands-free device is absolutely forbidden and can result in penalties.
Park legally:
Avoid parking in prohibited zones and impeding traffic flow by parking in approved spots. Be aware of parking laws, especially in congested areas or designated no-parking zones.
Maintain vehicle documentation:
Check that your car registration, insurance, and other relevant documentation are current and valid. Fines may be imposed if valid paperwork is not produced when asked.
Renew your driving license:
Make sure to renew your driver's licence before the expiration date. Driving with an expired licence can result in penalties and other legal ramifications.
Drive attentively:
Maintain attention and alertness when driving. Avoid aggressive driving habits including tailgating, abrupt lane changes, and excessive speeding.
Check your vehicle's condition:
Inspect your car on a regular basis ensuring it is in excellent functioning order. This involves inspecting the lights, brakes, tyres, and other important components.
Note: Remember that driving responsibly and attentively is critical for your own security and the well-being of everybody else on the road. You may reduce your chances of obtaining traffic penalties in Kuwait by observing traffic regulations and exercising caution.