Qatar Traffic violations payment
If you are driving on the roads of Qatar, it is essential to follow the traffic rules and regulations to avoid any inconvenience. However, if you have committed a traffic violation, it is crucial to pay the fine as soon as possible to avoid any further penalties. Qatar traffic violations payment is a quick and easy process that enables drivers to pay their fines online. The Qatar Traffic Violation Payment system is a user-friendly platform that allows drivers to pay their fines online from the comfort of their homes or offices. This convenient system saves time and effort, as drivers no longer have to visit the Traffic Department to pay their fines. The online payment system is available 24/7, making it easy for anyone to pay their fines at any time.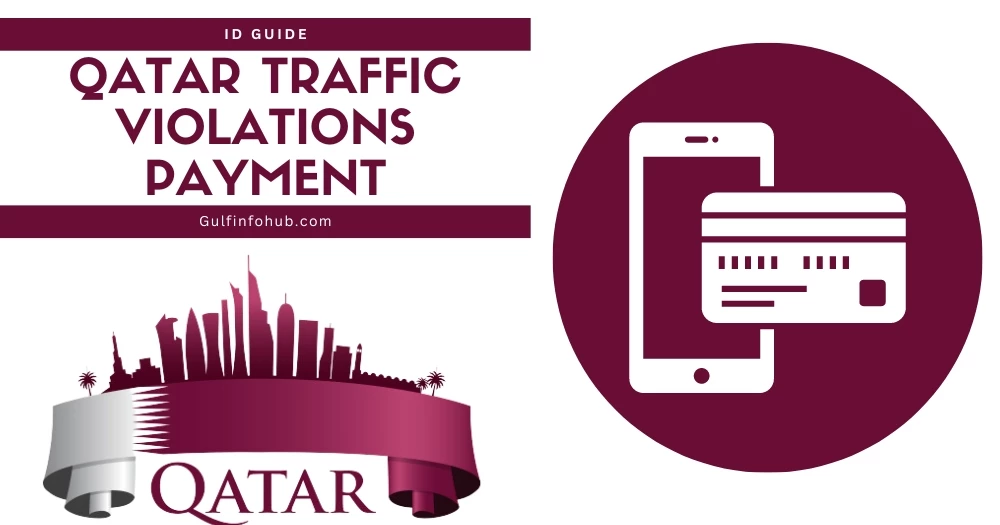 How to pay Qatar Traffic violations payment
By using the Metrash2 app and the official MOI website for Qatar (https://portal.moi.gov.qa/wps/portal/MOIInternet/services/inquiries)
you can pay your fines easily for MOI traffic violations in Qatar. You need to follow the given steps carefully.
Pay fines through official MOI website for Qatar:
First, you need to check your traffic violation status by following the above detailed method.
After reviewing all the details about your traffic violation and the amount you need to pay, choose the appropriate payment method, which could include a credit or debit card as well as Qatar e-wallet services like Qpay or Fawry.
Complete the payment procedure and keep the receipt as a proof.
By using Metrash2 mobile app:
Secondly, you can also pay your fines using the Metrash2 mobile app. To do so, follow these steps:
After getting the details about your traffic violations and amount you need to pay, you can simply open the app on your mobile device and If you have a violation ticket, you will see a Pay the Fine option. When you click on this link, you will be taken to the payment screen. You can easily make payments using your debit or credit card.
Third, go to the nearest traffic department office and pay your traffic violations in cash, according to Qatar MOI.
Appealing against traffic violations in Qatar
As you have different ways to check traffic violations online, you also have several options for appealing against your violation ticket.
The ministry of Qatar related to Traffic gives you the authority to appeal against your violation ticket.
But you need to file your complaint in a specific time period which is normally 14 days from the date the violation was registered.
Let us now look into the possibilities for appealing the traffic violation.
Appealing through the Metrash2 App
You simply need to follow these steps to appeal against your violation ticket:
Log into the app by using your Qatari ID and password
Choose the option "Traffic Services" and click on "Traffic Violations."
Click on the violation you want to appeal against
After clicking the appeal button you need to putt all the required information such as your Qatar ID or passport number, contact information, and a thorough explanation of why you are appealing the violation.
You can also upload photos and videos as proof
Then click on the button "submit"
And wait until the Traffic Violations Committee came to a conclusion
This process will take a specific time period .
If your appeal is accepted ,your fine will be canceled by the traffic department but if your appeal is rejected then you have to pay the fine within the given time period.
Note: It is important to note that appealing a traffic violation does not automatically suspend the fine; you may still be required to pay the fine while the appeal is being considered.you can appeal only once for a specific ticket at a time and cannot appeal for the ticket that is already paid.
Reporting traffic violations through Metrash2 App
you can report if you catch another driver while doing a traffic violation in Qatar.
This process includes the following steps:
Log in to the Metrash2 app.
Under the Services tab, click the "Communicate with us" icon.
Select the "Traffic" option.
Tap the "Report Traffic Violation" button.
Click on the "send" button after adding all the details and uploading a picture.If satisfied, the violation will be approved by the traffic fines department of the ministry of interior.
Additionally, to record a violation a picture with a detectable,number plate, time and locality is compulsory.
Reporting traffic violations through Call
You can easily report traffic violations in Qatar by phone call.for this purpose you can follow the given steps
Call +974 234 4444 to reach the Qatar Traffic Department hotline.
Describe the violation's specifics, including its location, time, and any other pertinent information.
On the off chance that conceivable, give supporting proof, for example, photographs or recordings.
Your name and contact information will be requested by the operator, but you can choose to remain anonymous if you so choose.
Send the report in.
Traffic department will take action against your report if they find it correct.
Note: it is very important for you to note that if you file a wrong report or try to miss guide the traffic department it will heavily cost you because it is a punishable offense in Qatar so be sure before reporting.
The 24/7 helpline is available in Arabic and English for communication.
Additional services on the Metrash2 app
You can avail a number of services through this app which are listed here
Obtain a driving license
renew your license
transfer ownership
renew your Istimara
details about traffic accidents
And many more
Conclusion
Based on Qatar traffic violations payment is a quick and easy process that enables drivers to pay their fines online., we can conclude several things. First, the government of Qatar takes traffic safety seriously and has implemented strict regulations to ensure the safety of drivers, passengers, and pedestrians. This includes regulations on speed limits, seat belt usage, and the use of mobile phones while driving.
However, despite these regulations, traffic violations still occur in Qatar, particularly related to speeding and reckless driving. These violations can result in serious accidents and injuries, which is why the government has increased enforcement efforts in recent years.
Additionally, Qatar has also implemented measures to improve traffic flow, such as the construction of new roads and the use of technology to manage traffic congestion.
Overall, it is important for drivers in Qatar to be aware of and adhere to traffic regulations to ensure their own safety and the safety of others on the road.