Online Kuwaiti Civil ID Payment for Expatriates (step-by-step guide)
In this post, we will guide you about online Kuwaiti civil id payment for expatriates.
The Kuwaiti Civil ID is critical for ex-pats since it proves their residency, acts as an official form of identity, and provides access to important services such as the banking sector, education, healthcare, and job prospects. It assures conformity with Kuwaiti legislation, and seamless transactions, and establishes the legal position and eligibility of expatriates in the nation.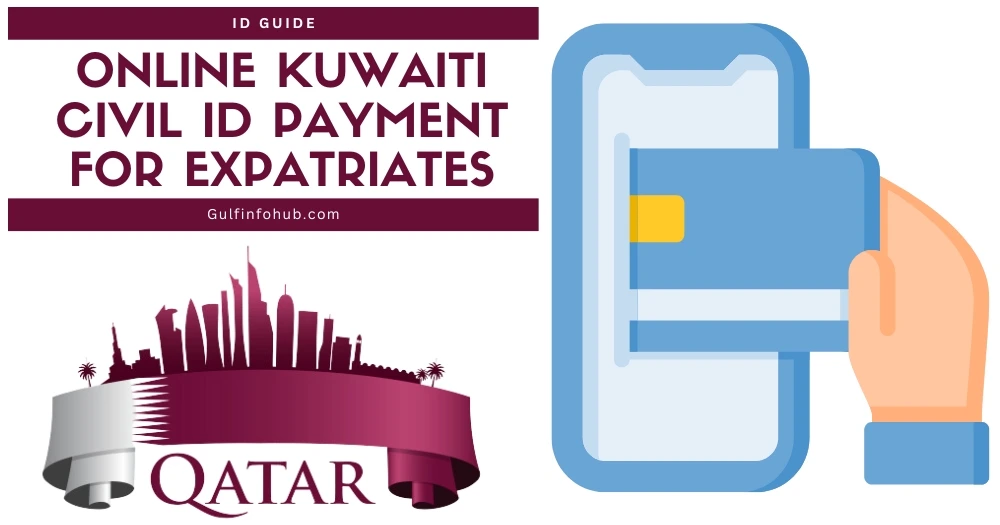 We'll explain the basic method to give a piece of comprehensive advice on paying Civil ID payments for expatriates online. Please keep in mind that precise processes and regulations may differ based on the nation or jurisdiction. For more accurate and up-to-date information, always go to the official website or reach the necessary authorities. The following are the general steps:
Gather Required Information:
Make sure you have all of the relevant information before starting the online payment procedure. This may contain your Civil ID number, passport information, information from your residency permit, and any other relevant identity or personal information.
Visit the Official Government Website:
Navigate to the appropriate government web page of the nation or jurisdiction where the Civil ID payment is required. Search for the section on Kuwaiti Civil ID payment or online services.
Create an Account (if applicable):
Before accessing online services, several government websites need users to register an account. If this is the case, proceed to the registration and account creation process. You may be required to enter personal information and create login credentials.
Navigate to the Civil ID Payment Section:
Once you've got access to the online service portal, look for the area allocated to Civil ID payments. It may be labeled "Civil ID Payment," "Residence Permit Payment," or something along those lines.
Fill in the Required Details:
Fill in the appropriate fields with the needed information. This normally contains your Civil ID number, passport data, and any other pertinent information. To guarantee correctness, double-check the information before proceeding.
Select Payment Method:
Select your desired method of payment from the list of possibilities. Credit or debit cards, internet banking, or other kinds of electronic payment systems are examples of online payment methods. Follow the steps and provide the payment information as prompted.
Verify and Submit:
Check the correctness of all the submitted information and payment details. Check that you are providing the right payment amount and that you have authorized the transaction. Submit the money after you are pleased.
Obtain Confirmation:
You ought to get a confirmation or acceptance of the transaction after making the money. This might be shown on the website, distributed via email, or downloaded. Keep a copy of this notification for future use.
Follow-up (if necessary):
Following the online payment, extra procedures, such as arranging an appointment or supplying supplementary paperwork, may be necessary in some situations. Keep track of any post-payment needs and follow up as needed.
Don't forget to keep track of the payment status and save any relevant receipts and paperwork. If you encounter any problems making an online payment, it is advisable to seek assistance from the proper government agencies or customer support.
Note: Please be aware that depending on the nation or jurisdiction, the specific procedure and terminology may vary. You should always consult the official government sources for precise and comprehensive instructions specific to your circumstance; the material presented here serves only as a broad overview.
Challenges Faced in Civil ID Payment
When it comes to paying for a Civil ID, expatriates could run into a number of difficulties. Depending on the nation or jurisdiction, these difficulties may be different. Here are some typical issues that ex-pats may experience:
Language Barriers:
Foreign nationals who are not native speakers could have trouble comprehending the guidelines and procedures for paying for a Civil ID. Language limitations might cause misunderstanding and make it difficult to precisely complete the payment procedure.
Lack of Familiarity:
The payment processes and methods that are unique to the Civil ID may be unfamiliar to ex-pats who are newer to the nation. They could have trouble navigating the online payment site or comprehending the essential procedures and paperwork.
Complex Payment Systems:
Some nations could provide several payment alternatives or complicated online payment systems. It may be difficult for expatriates to decide on the best payment option or to comprehend the precise processes required to make the payment.
Technical Issues:
Expats may encounter technical challenges that make it difficult for them to successfully complete the online payment procedure, such as website bugs or sluggish internet connections. This may cause annoyance and delays in paying the required payment.
Lack of Guidance:
The payment procedure may be more difficult for expatriates if the government or relevant agencies give insufficient or confusing instructions. Without the right direction, people can have trouble locating the information they need or comprehending the conditions.
Limited Support:
In some circumstances, foreigners may have trouble getting timely help or assistance from officials or customer service agents. Receiving assistance or clarity on issues relating to payments might take a while, which can make the process more difficult.
Inadequate Information Resources:
It could be difficult for expatriates to get reliable and current information on Civil ID payments. Inaccurate or outdated information might cause misunderstandings and mistakes throughout the payment process.
How to Faced Challenges
The following actions can be taken by expatriates to address these difficulties:
Enlisting the help of local friends, coworkers, or online ex-pat networks who have knowledge of the payment procedure.
Getting in touch with the appropriate government agencies or customer support to request clarification and advice.
Utilizing a suitable device and a dependable internet connection to use the online payment platform.
Verifying all criteria and instructions a second time to make sure the payment procedure is carried out correctly.
Expats can more successfully negotiate the difficulties connected with paying Civil ID payments by being proactive, asking for help when required, and making sure they have the essential information.
Conclusion
In conclusion, the Kuwaiti Civil ID payment method has enormous potential to streamline and simplify the payment procedure for ex-pats. Expatriates may complete their Civil ID payment duties while relaxing in the comfort of their homes or places of employment thanks to its ease, accessibility, and time-saving advantages. It's important to recognize the difficulties that foreigners confront in this process, though.
To address the concerns of expatriates and improve the online payment procedure, government officials should make an effort to offer clear instructions, current information, and quick customer service. A more smooth experience for expatriates can also be facilitated by initiatives to enhance linguistic accessibility, user-friendly interfaces, and technical infrastructure.