Online Hukoomi Health Card Renewal in Qatar
The Qatari government places a high significance on the healthcare system in Qatar by providing and issuing health cards to all the citizens, which grants all the residents to get healthcare services at subsidized rates in all government hospitals within the country.
To enhance healthcare facilities in the country the Qatari government also made heavy investments in the expansion and sustentation of the health care system to secure its regulations and effectiveness.
Now, the Qatari Government fabricated this health care system fully digital so that it will be more accessible, efficient, and a faster way to track the patient's record.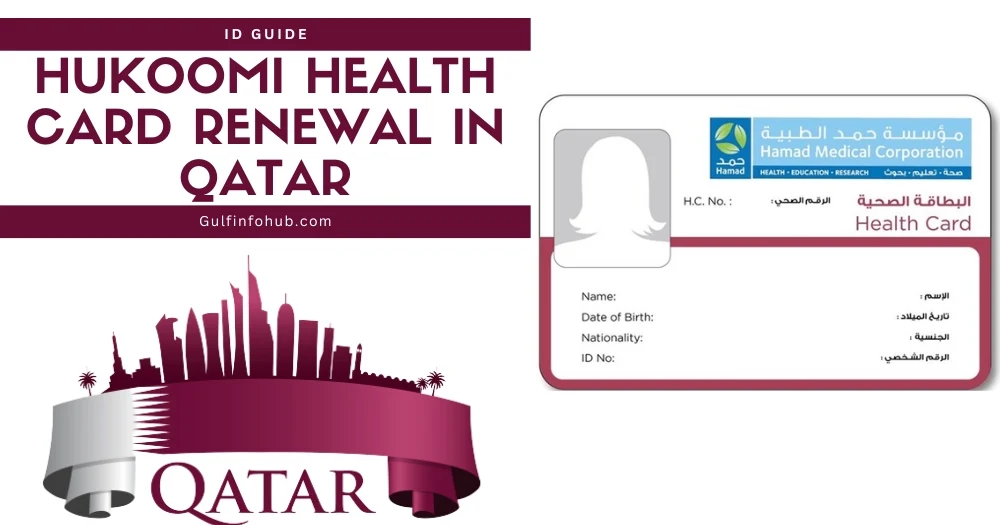 Furthermore, this card is compulsory for all residents of Qatar and even expatriates are also included.
It also exemplifies the Government's allegiance to guarantee that everyone has direct access to high-quality health services regardless of their nationality and socioeconomic status.
A health card is used to cover the cost of medical treatments and it works as proof of eligibility for health care services you can avail.
It is important that you have a valid health card to avail all the healthcare services in government and private hospitals.
To avoid any inconvenience in accessing the healthcare facilities make sure to renew your card timely before the expiration date.
In this post, we will help you to learn and understand the procedure of Qatar hukoomi health card renewal.
The validity of a health card in Qatar varies depending on the type of card. The standard health card issued by the Hamad Medical Corporation (HMC) is valid for one year from the date of issue. However, some other health insurance cards issued by private insurance companies may have different validity periods.
The Hukoomi health card is more commonly referred to as the Hamad card.
Checking the Hukoomi Health Card's expiration date
You can follow the following steps to find out about the expiry date of your Hukoomi Health Card in Qatar:
Visit the Hukoomi website at www.gov.qa.
Click on the "Health" tab in the main menu.
Under the Health section, select "Health Cards."
Choose "Check Health Card Expiry Date."
Enter your QID (Qatar ID) number and the CAPTCHA code.
Click on "Submit" to see the expiry date of your Hukoomi Health Card.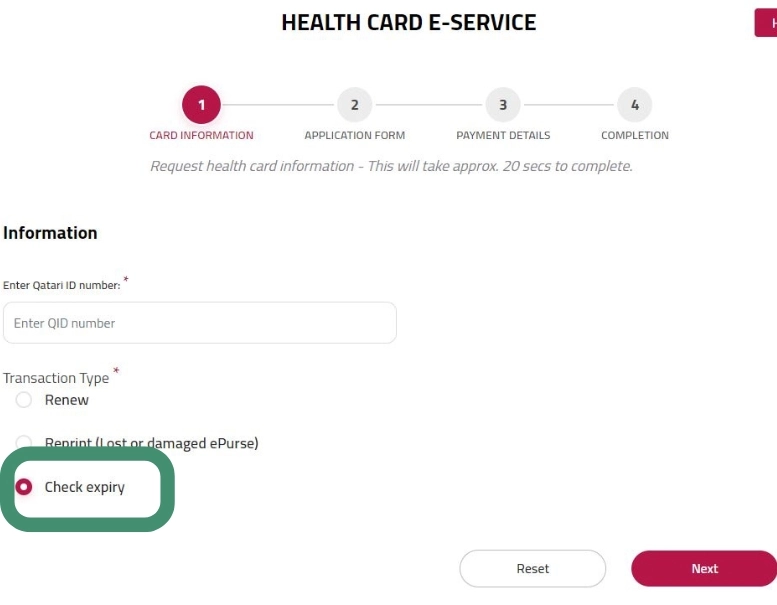 After this, you will come to know whether your card has expired or not.
You will see the following message on your screen in case your card is not expired.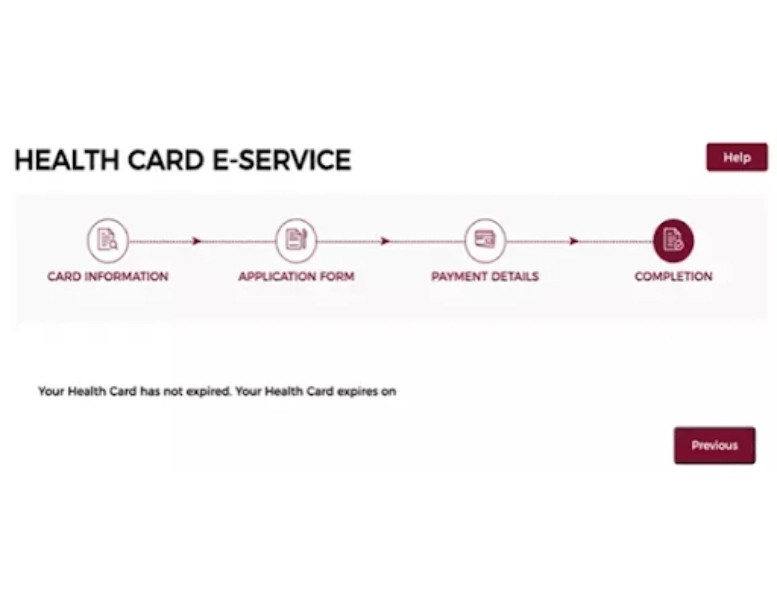 And if your card expires then the following message will appear on your screen.
By clicking on renew health card link you can easily start the renewal procedure of health card.
Cost of Qatar hukoomi health card renewal
The renewal procedure of a health card in Qatar will cost you so minimal.
As the cost of health card renewal is
QR 50 (approximately USD 14) for Qatari citizens
QR 100 (approximately USD 28) for residents.
Note:These fees may vary with time so, it is always better to check the most up-to-date information regarding this with the relevant authorities.
Renewal of a Health Card Online (Step-by-Step Guide)
Step 1: Go to the Health Card e-Service Website.lth Card Online (Step-by-Step Guide):
Here is the step-by-step guide which will help you to learn about the online procedure of card renewal.
You need to Visit the official website of the Ministry of Public Health in Qatar, which is www.moph.gov.qa.
After the homepage on your screen simply click on the "eServices" icon and from the drop down menu click on "Health Card Services" and then click on "Renew Health Card."
Step 2:Fill up the required fields:
On the next page you will need to enter all the required information such as you QID number and date of birth and then click on the "Renew" button.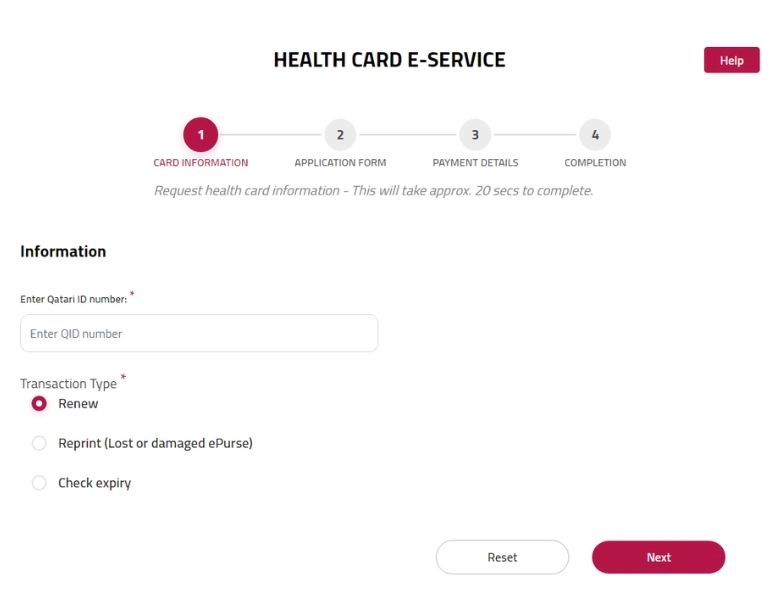 Step 3: Filling Out the Application Form
Here you need to fill the form properly with all the required information and you also expected to specify the quantity of years required for the card
You also need to provide a valid telephone number and Email if you want to get payment confirmation messages.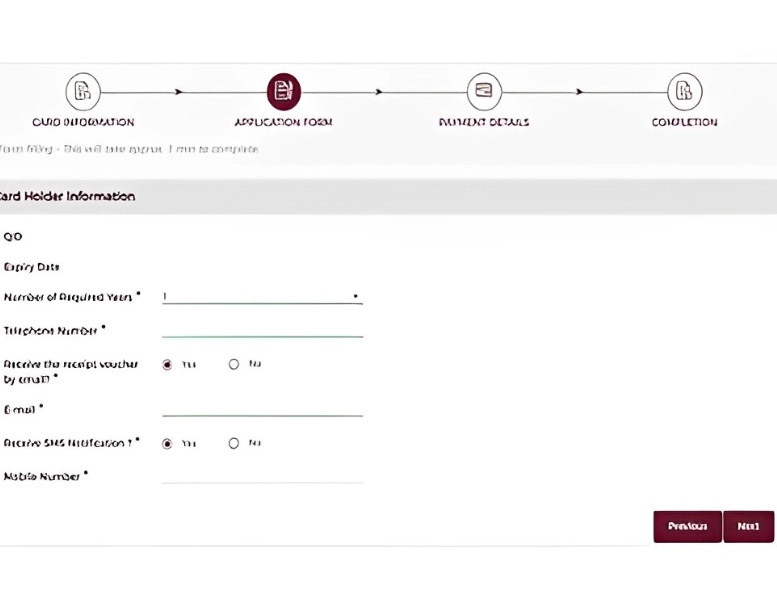 k on "YES: to the relevant options and then click on "Next"
Step 4:Make Payment
After providing all the necessary information and uploading the required documents you need to make payments via using your debit or credit card.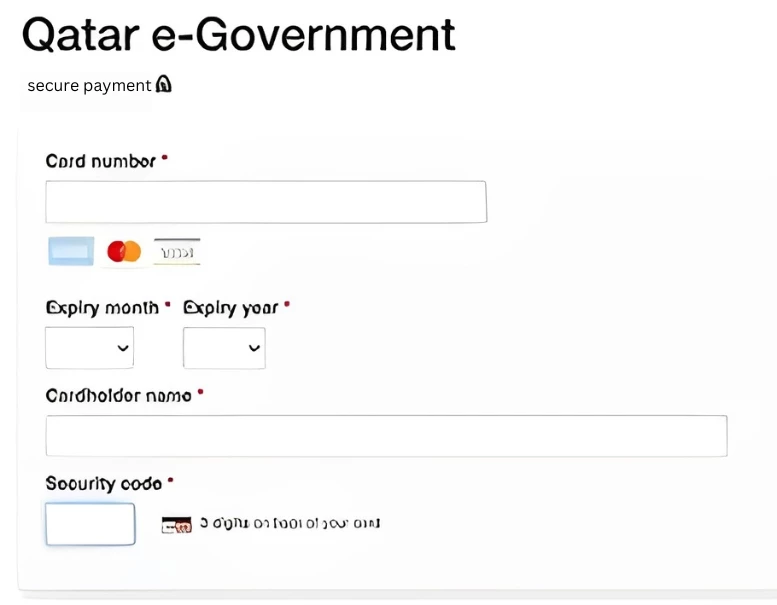 Step 6: Completion
You will get a confirmation message and e copy of your renewed health card, which you can download and print after completing the payment procedure.
You can also visit any nearest healthcare service center or the Primary Health Care Corporation's (PHCC) headquarters. to get a physical copy of your renewed health card .
Moreover, getting a new physical card is not necessary as your current card will be valid after renewal.
Offline Qatar Hukoomi Health Card Renewal
The following steps are needed to follow if you are in favor to renew your Qatar health card offline
Physically visit any of the Primary Health Care Corporation's (PHCC) health centers in Qatar.
Provide the required documents for identification such as your current health card, QID, or passport.
Fill out the given form
Pay the fee at the delegated fees counter
After confirming the payment,your renewal application will proceed
You will get a new temporary health card to avail of the health services while your card is being processed.
After this you will be able to receive your new card within a few working days from the same center where you applied.
Note:Make it sure that you bring all the required documents and payment in cash while visiting the center for your card renewal.
The offline procedure of card renewal may take more time than online.
Benefits of Hukoomi health card
The Hukoomi health card is also called Hamad health card. It is provided by Hamad Medical Corporation to all Qatari residents so that everyone can avail of healthcare services within the country at subsidized rates.
It brings several benefits which are listed below:
By using this card, residents will be able to avail of healthcare services by visiting any primary healthcare center or clinic in the country and can get treatment without paying anything.
You can get a 50% discount on your medication if you are suffering from chronic illness and need regular medication.you need to show your health card at the pharmacy to save money.
Emergency services:
By having this card, you become eligible for emergency medical services, which means that you can visit any public hospital in case of emergency and avail treatment without spending anything.
This card will also help you to avail online services such as book appointments, view your medical records, and order medication online.
Accessing a range of preventive care services, including health screenings, immunizations, and health education, is also possible with this card.
Conclusion
In Qatar, the Hukoomi health card is a one-stop shop for high-quality medical care. However, in order to use these services, you must have a valid card.