Appointment for civil ID in Kuwait by PACI online
If you are looking for the procedure to book an appointment for civil ID in Kuwait by PACI online, then you are in the right place. We are providing a detailed article on this to assure you that it will help you in your desired manner.
As it is compulsory to make an appointment to process or renew your civil ID in Kuwait. Kuwaiti residents and citizens must provide a Civil ID card for numerous transactions and services.
Making an appointment with the Public Authority for Civil Information (PACI) is advised to guarantee a quick and easy transaction. In order to prevent extended wait periods, you can choose a time and day that work for you to visit their office.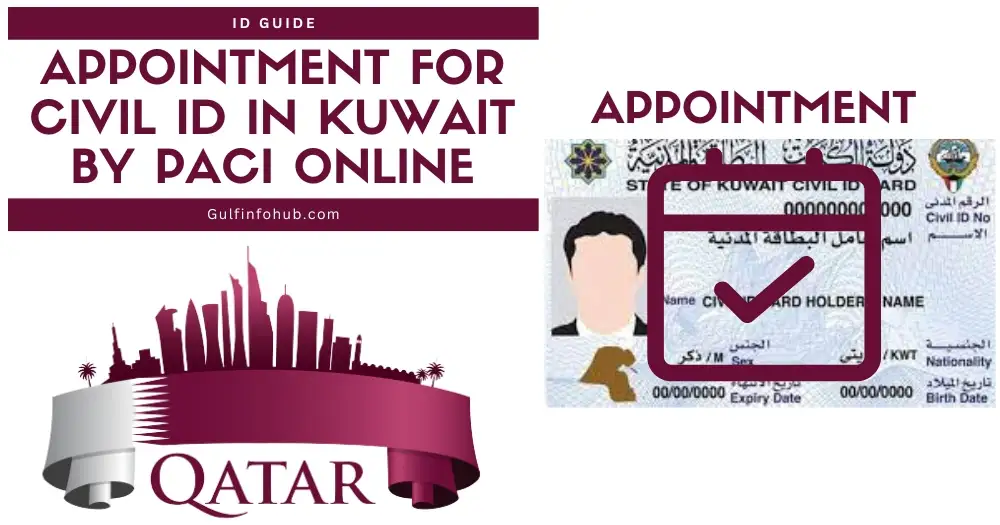 For thorough information on how to set up an appointment for Civil ID in Kuwait by PACI online, see the official PACI website or get in touch with their customer care. It's recommended to refer to the most recent information as the appointment criteria and processes could change at any time.
How to Book an appointment for Kuwait civil id?
In Kuwait, you may make an appointment to get your Civil ID by doing the following:
Visit the Public Authority for Civil Information's (PACI) official website. To find their website, type "PACI Kuwait" into your favorite search engine.
On the PACI website, navigate to the appointment booking area. It is typically found in a section devoted to Civil ID appointments or services.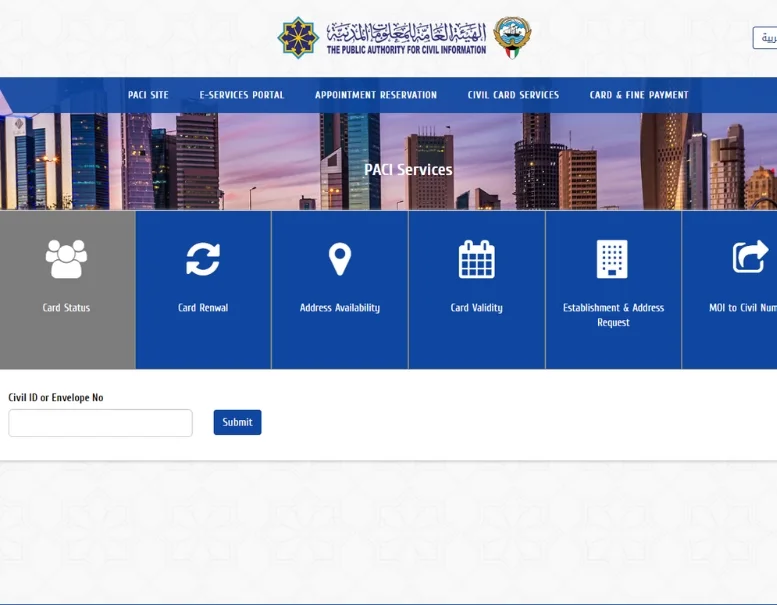 Select the button or link for scheduling an appointment. You will then be sent to the system for making appointments.
Give the information that is needed. Typically, your Civil ID number, birthdate, and other personal information will be requested. As shown by your Civil ID, be sure to enter precise information.
Pick the sort of appointment that you require. Options like a new Civil ID, a Civil ID renewal, or other similar services can be available to you. Depending on your needs, choose the best solution.
Determine the day and hour of your appointment. The web page will provide the hours and dates that are available. Choose the one that best suits your needs.
Set up an appointment. Examine the specifics of your appointment, including the time, date, and location. If the information is correct, confirm the reservation.
Note the particulars of your appointment. Writing down or taking a snapshot of your appointment confirmation is a smart idea. This will demonstrate that you attended the appointment as planned.
Prepare the required paperwork. Ensure that you're prepared with all the necessary documentation on hand before your consultation. Depending on the service you need, they might require your current Civil ID, passport, residence papers, and any other supporting documents. For a complete list of necessary papers, visit the PACI website or get in touch with their customer care.
Attend your appointment on time. Make sure you show up early or on time at the chosen PACI office on the specified day and hour. It is advised to bring your original identity documents, your appointment confirmation, and any additional paperwork that is needed to meet the criteria.
obey the PACI office's directions. When you get there, abide by the directions given by the PACI office employees. They will walk you through the procedures involved in obtaining your Civil ID or performing the essential services.
Note: Keep in mind that the qualifications and the appointment booking procedure may change. For the most current and correct information on making appointments for Civil ID services in Kuwait, it is always advised to consult the official PACI website or get in touch with their customer care.