How to Apply Qatar Visa from India?
Apply Qatar Visa from India, Qatar is one of the wealthiest countries in the world, thanks to its abundant oil and gas reserves. Consequently, Qatar is renowned for its opulent lifestyle, upscale shopping malls, and luxurious hotels.
Qatar is a recognized state in the Middle East, bounded to the south by Saudi Arabia and north, east, and west by the Persian Gulf. Qatar is a member of several international organizations, including the United Nations, the World Trade Organization, and the Arab League.
The Gulf Cooperation Council (GCC) is a political as well as economic organization comprised of six Arab countries in the Persian Gulf area, including Bahrain, Kuwait, Oman, Qatar, Saudi Arabia, and the UAE (UAE)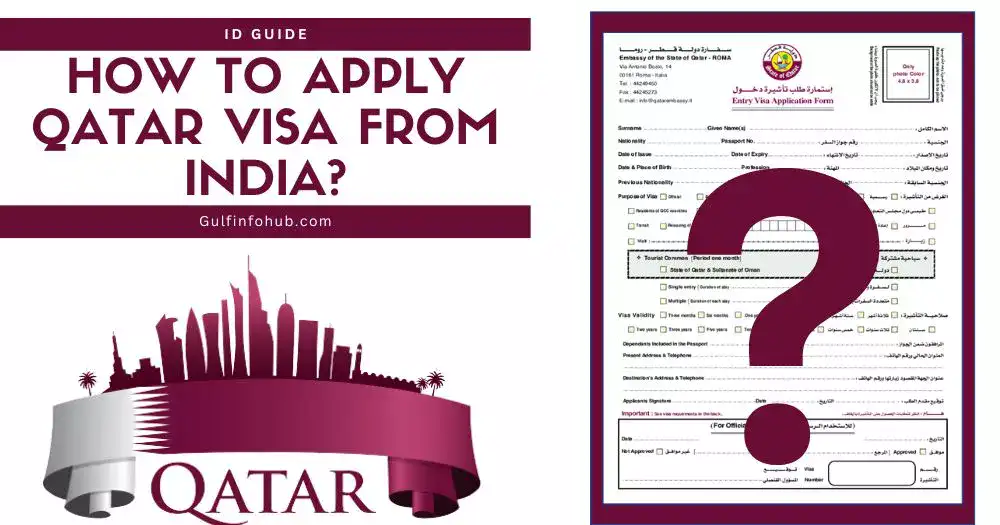 On June 27, 1995, Sheikh Hamad bin Khalifa Al Thani was appointed as the Emir of Qatar.He was the rightful heir at the time and served as Qatar's Prime Minister and defense minister. Qatar had tremendous economic development under his rule and made major investments in infrastructure, education, and healthcare. Sheikh Hamad abdicated in 2013 in favor of his son, Sheikh Tamim bin Hamad Al Thani, who is now the Emir of Qatar.
Travel guide from India to Qatar
Qatari national
All Indians have valid Qatar visas. Before issuing the ticket, the traveler's visa type for Qatar must be verified.
Agreement Among Governments
After the advent of COVID-19 illness, which is a global challenge, there are now prohibitive criteria for Indian citizens seeking Qatar visas.
How to Apply Qatar Visa from India
In this post, we will provide you with a guide that will help you to learn about getting a Qatar visa from India and all the requirements you need to fulfill while applying for the visa.
There is good news for all Indian nationality holders: they can avail of the visa-on-arrival opportunity that the Qatar government offers.
Now you do not need to have a visa before. You can easily get it on your arrival in Qatar while landing at airports or borders.
The procedure to apply for a Qatar visa from India is as simple as a pie. You need to follow the below steps:
Determine the type of visa you need:
As Qatar offers several types of visas, in which tourist, business, work, and family visas are included. So you need to decide which type of visa you need to apply for based on your travel purpose.
Gather the required documents:
You need to have a valid passport, passport-sized photographs, a ticket, a hotel reservation, and a visa application form as they are common and crucial documents. however, the documents can change according to your visa type.
Apply for the visa:
You can submit Qatar visa applications online through the official website of the Qatar Ministry of Interior, or physically at the Qatar embassy or consulate in India. A visa service firm can also help you apply.
Pay the visa fee:
You can pay your fee via debit or credit card online or at the embassy or consulate and it can vary depending on your visa type.
Wait for visa processing:
The processing period for a Qatar visa can range from a few days to several weeks, based on the type of visa and the embassy or consulate's workload.
Collect your visa:
Once the embassy or consulate grants your visa application, you can either collect it in person or choose to have it delivered to your home.
How to apply for a visa on arrival
Indian citizens also have the opportunity to avail visa on arrival services for a stay of up to 30 days. here are the following steps you need to know while applying for a Qatar visa on arrival from India:
Ensure eligibility:
To be eligible for this opportunity you need to have an Indian passport with at least six months of validity, a return or onward ticket, and a hotel reservation.
Arrive in Qatar:
You must arrive in Qatar at Hammad international airport in Doha.
Complete the immigration form:
After arriving at the airport you need to complete a form with all the required information, which given to you by the immigration department
Pay the visa fee:
The visa fee for Qatar on arrival is 100 Qatari Riyals (approximately 2,000 Indian Rupees).you can pay the fee in cash or via using a credit or debit card.
Get your visa:
After completing the form and paying the fee you can get your visa on arrival.
Tourist Attractions in Qatar
Qatar is a modest but wonderful country with a rich cultural past, contemporary architecture, breathtaking desert landscapes, and world-class museums. Following are some of the best tourist attractions in Qatar:
Museum of Islamic Art:
This popular museum is located on the Corniche in Doha and is a must-visit attraction for art lovers. It is the collection of Islamic art in the world, including manuscripts, textiles, ceramics, and metalwork.
Souq Waqif:
The traditional market situated near the center of Doha provides an excellent opportunity to learn about Qatari culture. The souq is filled with stores that offer spices, textiles, jewelry, and handicrafts, along with numerous cafes and eateries.
The Pearl-Qatar:
This man-made island near Doha is a popular place for shopping, eating, and entertainment. It has stunning marinas and seaside promenades, as well as upscale stores, restaurants, and cafés.
Katara Cultural Village:
This lovely cultural hub on Doha's shore has a multitude of arts organizations including art galleries, theaters, and music halls. It is also a fantastic location for outdoor gatherings and festivals.
Al Zubarah Fort:
This antique fort is a World Heritage Site by UNESCO and is located in northwest Qatar. It was developed in the 18th century and played an important role in guarding Qatar's northern shore.
Khor Al Adaid (Inland Sea):
This charming beach is located in southern Qatar and is famed for its magnificent sand dunes and crystal blue seas. It is a popular camping and outdoor activity spot.
These are the only few attractions for visitors as Qatar has a lot of other attractions for tourists as well.
Conclusion
Finally, from all the above discussion you now will be able to apply for a visa to Qatar. you can also gather information about applying for a Qatar visa by visiting the official MOI website and the Qatar visa center (QVC).