How To Register Cell Number With Qatar ID?
most of the people want to know How To register cell number With Qatar ID. Being an employee in Qatar, your QID is one of the most crucial documents. You will always need this recognition while doing your business in Qatar. You always need to provide your QID while applying for any administrative benefits or in association with personal operations related to the bank.
Furthermore, Your QID is directly linked to your phone number so that you can get all the notifications regarding your QID.
If you miss connecting your latest up to fate number with your QID then you have to face many problems as you may not be able to get informative messages and notifications from the authorities.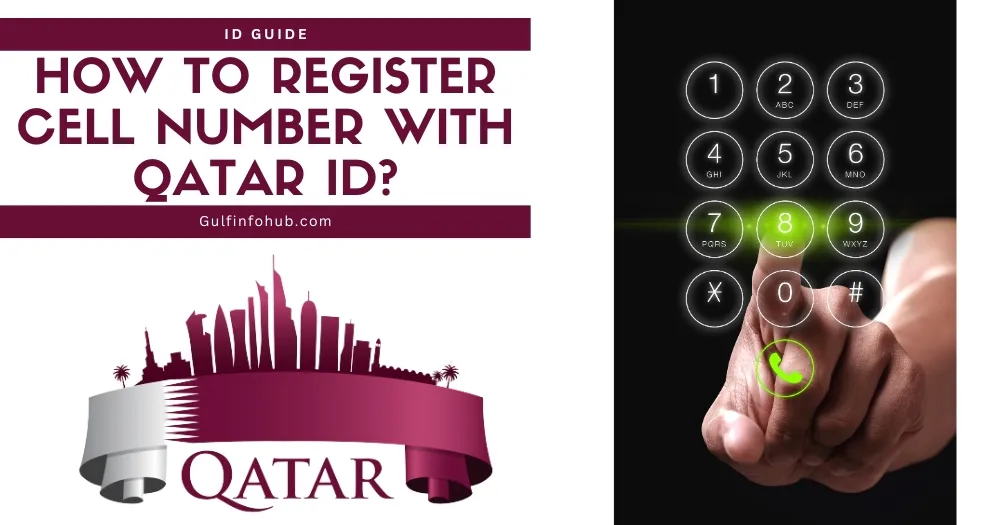 Suggested post: How To Change Date of Birth on Qatar ID?
So, you should need to connect your valid phone number with your QID by simply approaching your nearby Ooredoo or Vodafone branch and making sure to bring your QID.
Online Qatar ID Mobile Number Registration
The steps of register cell number With Qatar id is simple and these steps will help you while doing this.
To use the Self-Service system, enter your Smart ID.
Personal services' should be selected from the drop-down option.
Click on Metrash2 from the menu.
Enter your mobile phon
e number here.
Choose 'Register for Service' from the menu.
That is it, By completing all the above steps you successfully registered your number with your QID.
Qatar Smart-ID
Qatar Smart-ID is a digitized authentication system built by Qatar's interior ministry to empower residents with a safe and simple alternative to accessing government services online. Users can utilize the platform to create a digital ID which can be utilized to verify their identity while seeking government services via various online channels.
Users may create a digital profile via Qatar Smart-ID that includes personal information like their name, date of birth, and Qatar ID number. Visitors can then use this digital profile to verify their authenticity while attempting to access government services online. To preserve user data, the platform uses advanced security features including multi-factor authentication, encryption, and secure data storage.
Qatar Smart-ID is applicable to all Qatar residents who have a passport.
Metrash2 Registration for an Extra Number
Disabled and older citizens will receive the same sms alerts as primary users and will be informed at all times on service statuses. It is not practicable to add a co-receiver on account of a service provider as just the service provider can register a co-receiver.
Steps to follow:
Check that the service owner's QID and mobile number are up to date.
Co-recipients must give a valid QID as well as their mobile phone number.
Then click on the "Submit" icon.
Note:
If they have not yet registered as Metrash subscribers, they will be directly registered while entering their details as co-receivers.
Co-receiving is allowed for more than one primary service holder.
After submitting the information, you will be provided with an Operating Password (OTP) to activate the service co-receiver.
How to update passport information in Metrash2?
You can easily upgrade your passport information through Metrash2 Mobile App by following the given steps:
Check-in with your mobile device to Metrash2.
From the drop-down option, choose "Residency."
Go to "Change Passport Information" and click it.
After putting your QID number just click on "Next"
Putt the details of your new passport
Passport photographs should be updated.
Request for Metrash2 National Address Certificate
Individuals can use this app publicly or privately to obtain national address certificates through the Ministry of Interior (MoI).
To get the certificates following steps are given by MOI:
On the Metrash2 app's home screen, select 'National Address.'
'Add National Address' should be selected.
Choose 'National Address Certificate' from the drop-down option.
You must provide the contents of the certificate (like Home, Work, and Outside Address).
You can select a language between Arabic and English.
You will be emailed a National Address Certificate.
Fill in the payment details as needed.
A confirmation window will appear when you submit the request.
Cost: QR 10 is the price of the certificate.
What procedures must be taken to activate Metrash2 on a second device?
Follow these steps to activate Metrash2 on a second device in Qatar:
Install the Metrash2 mobile application from the App Store (for iOS) or Google Play Store on your second device (for Android).
Start up the Metrash2 app and click "New User."
Select "Mobile Activation," and enter your QID and password.
The activation code will then be delivered to the phone numbers linked with your Metrash2 account.
To end the activation process, insert the activation code on your second device.
Your Metrash2 account now can be used on a second device.
What is the National Authentication System (NAS) of Qatar?
Qatar's National Authentication System (NAS) is a standardized and security systems system that provides safe access to online government services in Qatar. It is a digital verification and authentication system which enables people as well as companies to conveniently and securely obtain government services. The Qatar interior ministry maintains NAS, which is an essential part of the government's goal of promoting digital transformation and boosting access to public services.
The NAS system employs strong encryption and security measures to ensure that the user's personal information is always safeguarded. It also supports multi-factor authentication, which requires users to submit more than one form of identification to access services, adding an additional degree of protection.
Individuals and corporations can benefit from NAS.
Summary:
In summary, we present the Qatar Id registration process in depth. For some further information, visit the main Ministry of Interior Qatar website.