How To Change Date of Birth on Qatar ID?
If you are wondering how to change your date of birth on your Qatar ID, you can easily do so by using the Metrash2 app. This app allows users to make changes to their personal information, including their date of birth, in collaboration with the department of Moi's information system. With the help of this app, updating your date of birth on your Qatar ID has become a hassle-free process.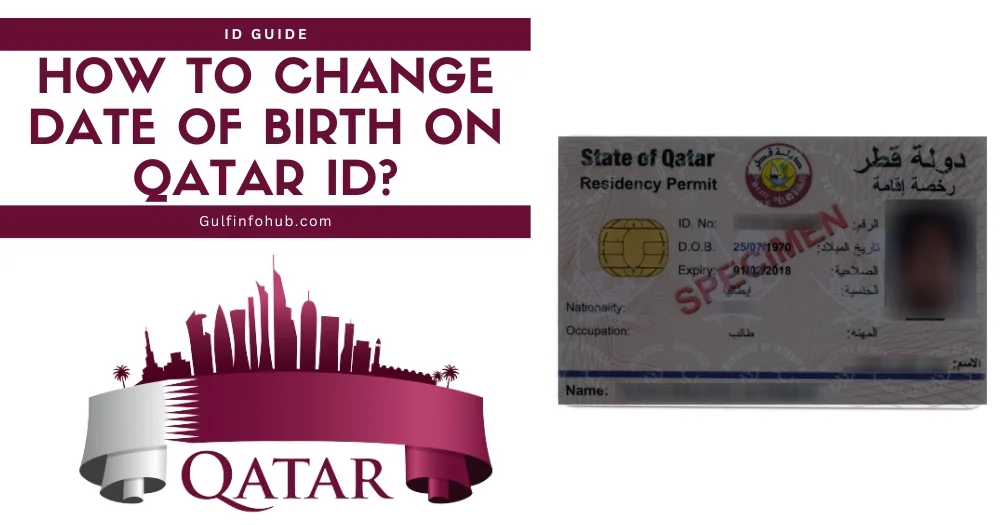 Related article: How to Check if Your Qatar ID Is Canceled?
The way how to change date of birth on Qatar id by using the Metrash2?:
If you are looking for the procedure that how you can change your date of birth by using the Metrash2 app.
you simply need to follow these steps:
Log into your Metrash2 account by using your QID number and password
Select "My Services":
After logging in, click on the button "My Services" from the main menu
Select "ID Card Services":
By clicking on the "My Service" tab, a list with different options will appear. Now you need to click on the "ID Card Services" menu.
Select "Modify Personal Information":
From the "ID Card Services" menu, choose "Modify Personal Information" to start the procedure of altering your date of birth.
Fill out the application form:
To change your date of birth, you need to fill out an application form with all the required data. so be sure you fill the form with the accurate and complete information that is required.
Provide supporting documents:
You also need to give the important documents that will serve as proof of your real date of birth such as your birth certificate and your passport.
Pay the fee:
After providing all the important information along with documents, now it's time to pay charges to change your date of birth. you can pay the fees by using your credit or debit card. fees may vary over time so it's better o check it from Qatar ID authorities.
Submit the application:
Click on the "submit" button.
Wait for the approval: The Qatar ID officials will analyze your application and notify you of the decision. If your request is approved, your Qatar ID will then be updated with the correct date of birth.
Note: This procedure is time taking and authorities can ask for some extra information and documentation, so be patient and wait for the official's decision. you can also follow up with the Qatar ID authorities if necessary.
How to Publish the Newspaper Memo
Choose the request in the "Upload Newspaper Note" box.
Choose to use a newspaper and language depending on the region mentioned on the identity documents.
You will receive a mail approving your submission after completing the crucial details and attaching the advertising and choosing the start date.
Note:
How does the Metrash2 app function?
Metarsh app has the following tabs:
My Information Tab:
You can discover information regarding your official records, including your passport, Qatar ID, driving license, and date of last visit, then under the info tab.
Information about your whole family members can be found under Residential Services.
The third row contains data on traffic offenses and owned automobiles.
Visa Services is placed on the final row.
Note: You can get more details by clicking on the desired icon.
Services icon:
Residency:
By clicking this icon you will able to get info regarding the Issue of a Residency Permit, Termination of a Citizenship, Retention of a Residency, Substitute of a Damaged or Lost Id, Sponsored Names Report, Re-issue of a Residency Permit, Sponsorship Change, Automatic Renewal of a Residency Permit, and so on.
Traffic:
Under this tab, you can find the latest info about your License Updating, Traffic Violation Monitoring, Traffic Violation Fee, Motorization Transfers, and Accident Registrations.
Notice of Leave:
On the Leave Notification page, you may select between Leave Notification, Return Permit, and Traveler Transaction.
General Services:
Services including reporting missing items, obtaining a police clearance certificate, and acquiring a security permit will be available on this page.
Residents:
The "Citizens" section contains a variety of operations for Qatari residents.
Visa:
The Visa Section offers services including fresh visa issuance, visa approval, visa extension, and visa application follow-up.