MOI Qatar ID Check Online – QID Validity / Expiry Inquiry
The process of authenticating individuals' identity through their Qatari ID card is described as a Qatar ID check. The holder's name, picture, date of birth, and residency status are all included on this ID card.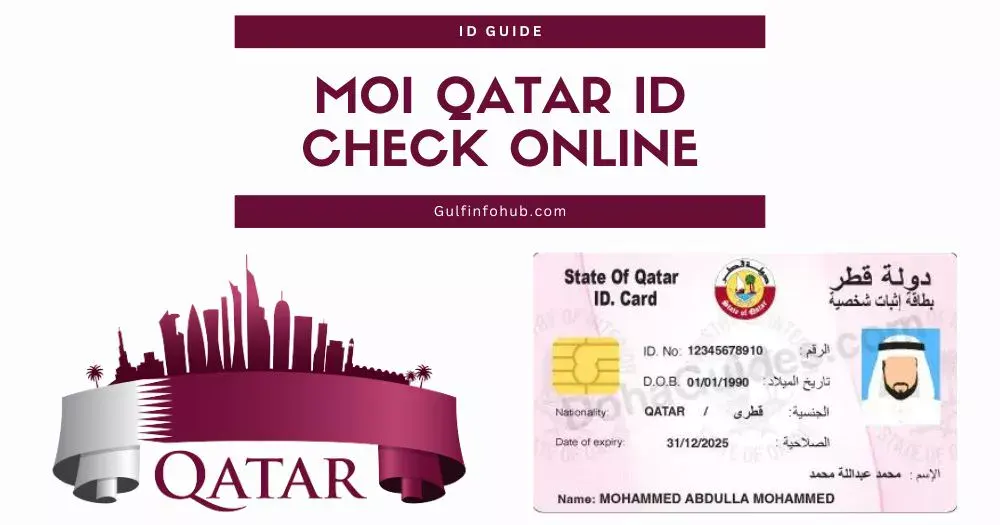 The Identity card is a vital document in Qatar, which can be utilized for a range of purposes, including obtaining healthcare services, activating bank accounts, and applying for government services.
The ID check procedure is essential for verifying that the person providing the ID card is actually the legal owner, and it plays a crucial role in ensuring the security and integrity of the country's multiple institutions and services.
Check Qatar ID With Step by Step Guide
Follow the step-by-step instructions to check your MOI Qatar ID status online.
1st STEP:
Go to the MOI Qatar ID Check Portal.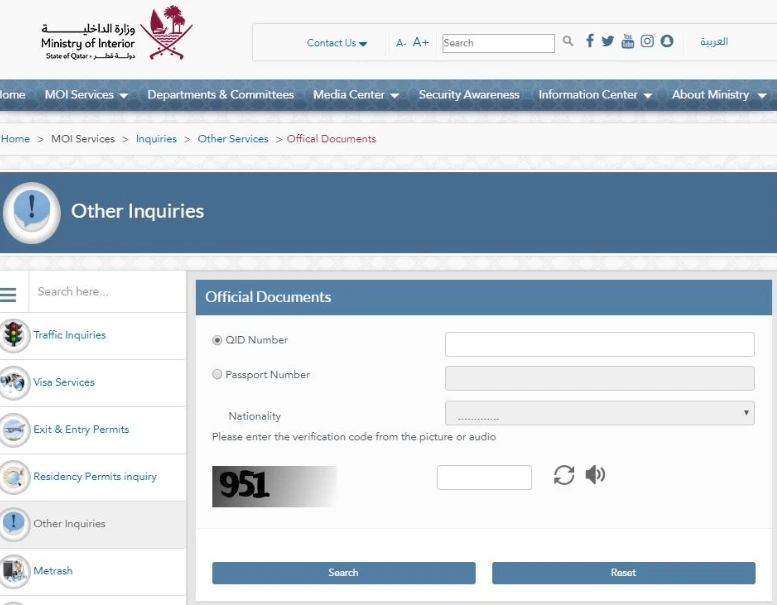 2nd STEP:
Enter your "QID Number".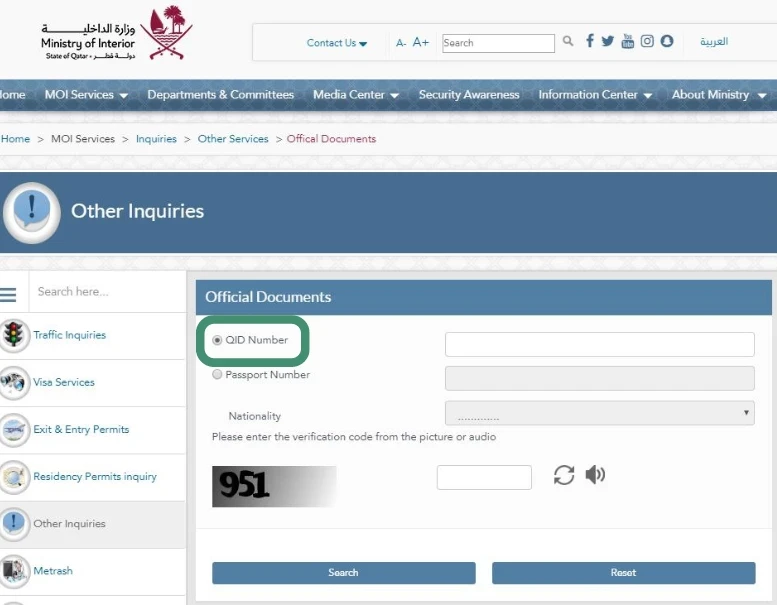 3rd STEP
Complete the "Captcha".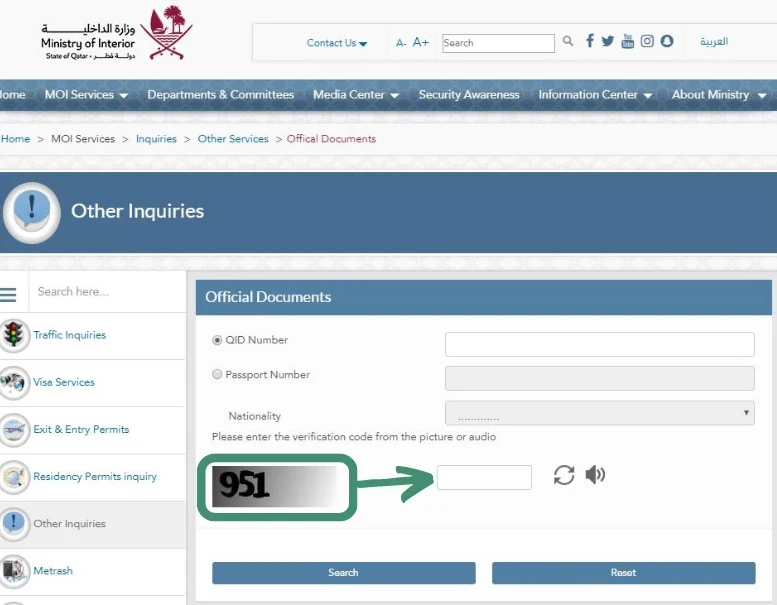 4th STEP
Choose "Search" from the menu.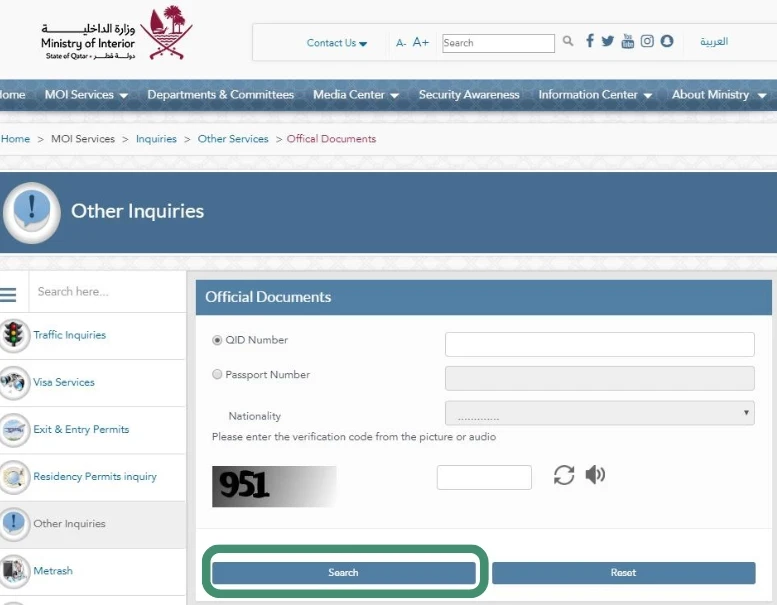 And that's it! After this, the system will show you the expiry dates of the Qatar id card, Passport, and residency.
In any case, if you put in the wrong QID number and did not get the required result, then you can simply click on the reset button to type and check the Qatar id card number again.
Qatar ID Check By Passport Number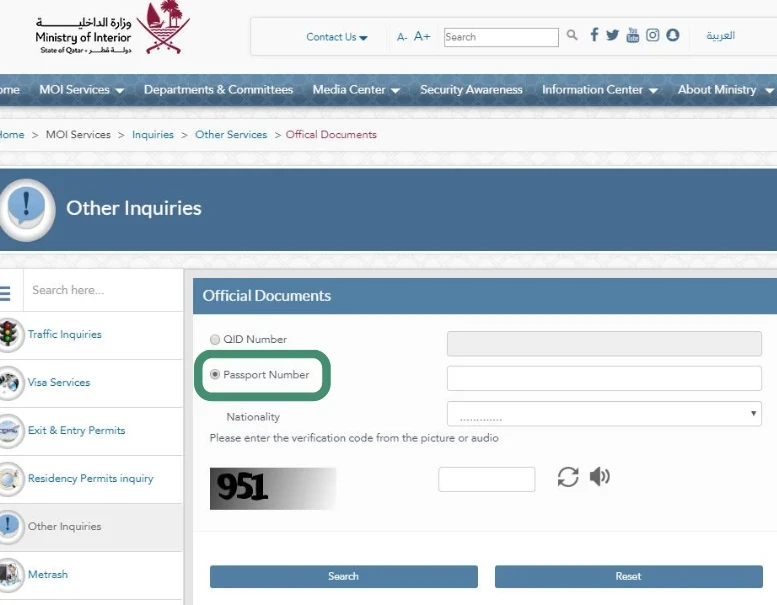 No need to worry if you do not have your QID number, you can type your passport number by selecting the passport row, selecting your nationality, and pressing the search button.
You just need to follow the following steps to check your Qatar ID by using your passport number:
Visit the MOI "Qatar ID Check" page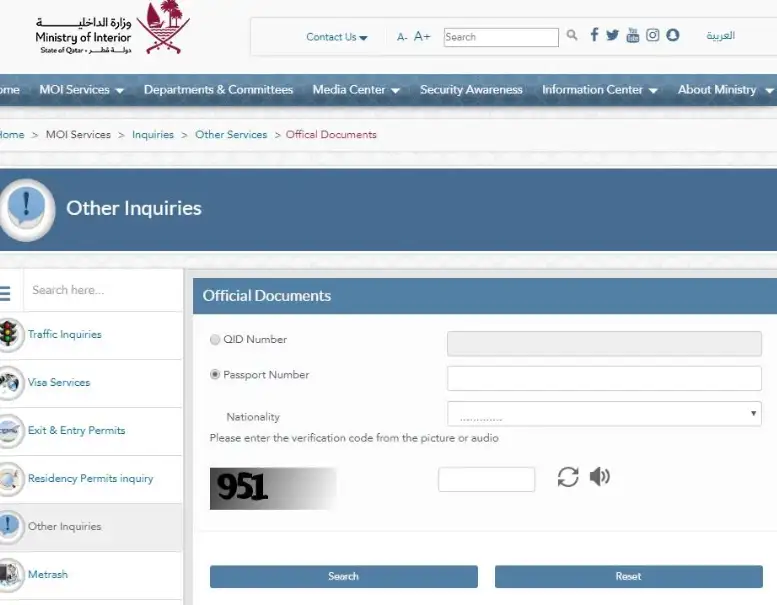 Fill in the passport number field
Make your selection under "Nationality" in the drop-down menu.
Enter the "Captcha" that appears on your screen.
Choose "Search" from the menu.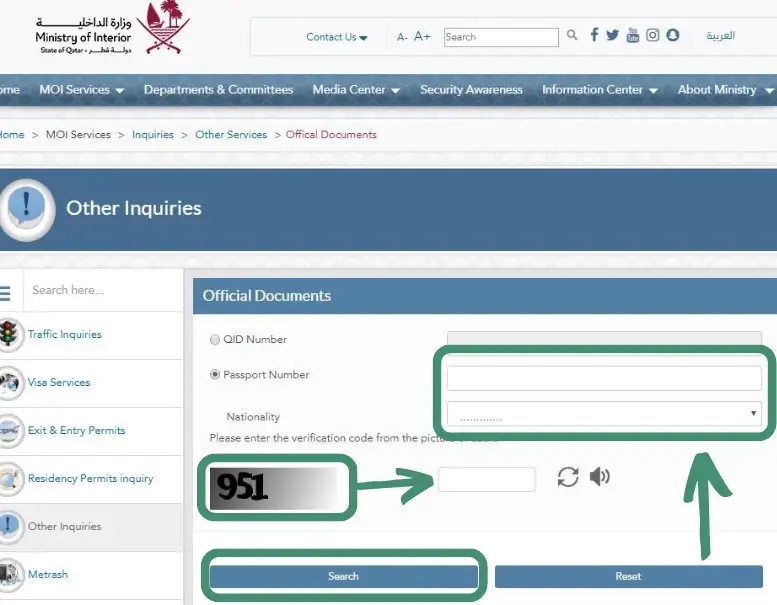 What is Qatar ID
Trusted identities are a symbol of society's prosperity.
So the Qatari Government is insisting on stronger security measures and laws with the aim to safeguard online identification and minimize ID cheating. It clearly showed that national IDs can be a source of getting crucial services and lucrative welfare along with the protection of personal data.
Having IDs is compulsory for both residents as well as civic and or those who work here because most of the transactions in Qatar need to provide your IDs.
A plastic ID card with basic information, a barcode, and a photo is also given to new citizens of Qatar. Both bank accounts and driver's licenses must meet this criterion.
In 2011 the Interior Ministry initiated smart cards for foreign residents. Besides other biometric data, these chips save fingerprints and eye scans. these can be used the bypass passport queues at immigration with e-gate cards by the residents. for the purpose of using e-gate services, residents have to trade their traditional ID cards for smart cards.
so if you are an expatriate. and live in Qatar and want to upgrade your ID card to a Smart ID card. then you simply need to visit your nearest government office
Fees for smart QID
Via this service offered by the Ministry of Interior, residents can apply for smart IDs and choose the services they want and how long they want them for (MOI).
The price of a smart card is QR100, the same as that of a conventional ID card.
E-gate services cost QR 100 for a full year.
For two years, e-gate services cost QR150.
E-gate services have a three-year subscription fee of QR 200.
Note: Depending on the time span and nature of the given electronic services, extra costs may apply
Benefits of Using Smart QID card
Now Qatar Expats can also get 'Smart' ID cards.
Smart ID cards become more secure, cautious, and appropriate with An integrated security chip. Smart ID Card bestows various advantages in contrast to the previous ID card.
The various advantages include the following:
Obtaining licenses
Obtaining renewals for documents
Obtaining a new driver's license
Paying for permits
Internet services for the government
All Qatari citizens would be able to access e-government services easily, uniformly, and multifunctional with the help of a smart ID card. Holders of E-gate cards do not need to pay an upgrade charge in order to switch to the Smart ID card. Now that Smart ID cards are available, Qatari officials are collaborating with the airport authorities to block the E-gate system. Information is stored on a smart card's electronic chip, which can only be accessed by matching a fingerprint or PIN.
Qatari ID Numbers: What They Mean?
Many people in Qatar wonder about the numbers on their IDs and what they meant.
Your ID number contains information about your age and nationality and it helps Government officials to recognize your age and nationality in a very short time.
The Arabic word for the Qatar ID number is named IQAMA.
To read the numbers on your ID you can follow the following steps:
First Digit: You are 2 if you were born between 1900 and 1999; you are 3 if you were born after 2000.
The last two digits of your birth year are the second and third digits.
The four, five, and six digits represent your nation's ISO code.
Number of Qataris who were born in the same year as you, last five digits.
Cost of the Qatar ID
The applicants who apply for the first time and those who want to renew their QIDs have to pay QR100.
The fee is QR200 for the lost or damaged QID and it is according to hukoomi.gov.qa.
Location of a fingerprinting service
It is important for you to register your fingerprints at the Ministry of Interior.
In this respect, you need to visit fingerprinting headquarters situated on Salwa Road near the flyover over the Industrial Area.
These services are also available at Al Khor, Mesaimeer, and Duhail.
How does NOC Qatar work?
Certificates of No Objection are referred to as NOCs. This document serves as a guarantee that the employer won't object if the employee changes jobs.
How can I obtain a blood-type certificate?
Any clinic in the country can issue you a blood type certificate at a very cheap cost.
You can schedule your medical examination and blood test with the Medical Commission after receiving your certificate.
Final Thoughts
If you live in Qatar, obtaining a Qatar ID—also known as a Qatari ID or a Qatar Resident Permit—is crucial. The Qatar ID is a recognized form of identity issued by the government of Qatar, and it acts as evidence of your rightful presence there.
All official business, such as obtaining a license or accessing medical care, requires identification. Your ID needs to be renewed annually. Businesses can assist staff members in getting Qatar IDs by working with the Qatar Visa Center in their country of residence. If you want to know the validity or expiration date of your Current Qatar visa, you must check its status online prior to filing for a QID.
By going to the Online Qatar Traffic Violations Inquiry and entering your ID number, you may also verify any penalties associated with your Qatar ID.