The Ultimate Guide To QATAR ID, VISA, AND GOVERNMENT SERVICES STEP-BY-STEP
In this post, we will provide you with the ultimate Guide To Qatar id, visa, and government services step-by-step guide through which you can easily understand the procedure of procuring the Qatar id visa or other services of the Qatar government.
Hence, if you felt jaded with wasting hours attempting to understand the procedure in this respect, we are here to assist you. With our lucid, succinct explanations and simple guidelines, you may quickly find the solutions you require.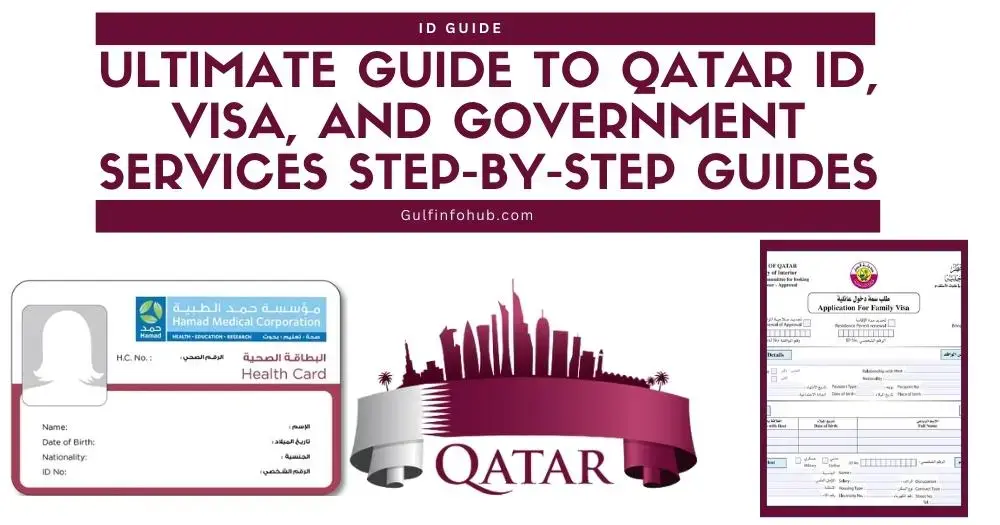 Regardless of your level of experience in Qatar. We can assure you that our guidelines will help you fully understand everything you need to get started.
We will give you complete support with everything from getting a Qatar ID to enrolling in a school and receiving medical care.
So with our step-by-step guide. You may bid confusion and irritation farewell and welcome to a streamlined, effective government services experience.
The Quickest & Easiest Way To OBTAINING A QATAR ID
For residents of Qatar, obtaining a Qatar ID is an essential first step. You can use our guide to learn all the information you need to get started, including the prerequisites and application process.
Qatar id is a foundational document for the resident of Qatar To avail of a wide range of services. Involving getting a driving license, opening a bank account or even enrolling in a school.
We'll walk you through the prerequisites and application procedure for obtaining a Qatar ID in this tutorial.
Required Documents:
a passport with a current visa for residence
a recent photo for a passport
Utility bills as a common form of residency proof.
Original and a copy of a valid residency visa
Original passport and copies of the sponsor's passport and identification
Application Process:
assemble all necessary documentation
Visit the specified service location.
Complete the application and provide the relevant paperwork.
remit the fee (if applicable)
Wait for your application to be processed.
Once it is prepared, pick up your Qatar ID.
Note: Processes and requirements for getting a Qatar ID can change. Therefore, it's best to always check the most recent information before applying.
Read more:
Obtaining a Qatar Visa
For those who want to enter the country for any purpose like work and study, the first and most consequential step is to get a Qatar visa.
Thus, in this respect, we are providing you with our guide. Which helps you with all the information on the requirements and application process you need to get started.
This process of visa application might be intricated, but it can be easy and smooth with the right information and tips and strategies
The visa application process may be intricate, but it can be easy and smooth with the exact information and tips.
You will go through Ultimate Guide To QATAR ID VISA AND GOVERNMENT SERVICES and the steps you should follow to get the Qatar Visa with the help of our guide.
Required Documents:
A passport that is at least six months old
Bring at least two recent passport-sized photos
Evidence of lodging in Qatar
Passport and ID of the sponsor, both original and copy
The sponsorship's proof (work or residency visa)
Evidence of health insurance
Evidence of financial security (such as a bank statement)
Further supporting documentation unique to the type of visa being requested (such as educational qualifications for students, or employment contract for workers)
Application Process:
Set up all necessary documentation
Apply online or at the specified service center.
Complete the visa application form and submit the necessary paperwork.
The processing charge for the visa
Wait until your application is processed.
When your visa is ready, pick it up.
The procedure and conditions for acquiring a Qatar visa may occasionally change, so it is always a good idea to check the most recent information before applying. This is crucial to keep in mind.
Accessing Government Services in Qatar
Acquirement of government services in Qatar is not a complicated procedure.By using our guide you will be sure to have all the specified information you need to get started for obtaining Qatar ID.Thus, start today and streamline your process of obtaining government services in Qatar.
The first step in accessing Government services in Qatar is to attain a Qatar ID.It will be the most crucial document you need to have while availing of several services and before starting the procedure to enrolling in schools, attaining healthcare services, or a driving license.
After getting your Qatar Id the next step is visiting the delegated service center for the certain service you preferred.it can be a school , a government office or a healthcare facility just depending on your preferences.
Be sure to carry all the required documents for that specific service you want to avail, such as Qatar Id, passport, and any other document, while visiting the service center.
Depending on the service you need, you may also need to complete an application and pay a cost.Note:you should remember that the procedures and specifications for using government services in Qatar may occasionally change, therefore it is always good for you to verify the most recent details before applying