How to Apply Qatar Visa Online?
Qatar ETA refers to "Electronic Travel Authorization," a form of electronic visa that allows travelers to enter Qatar for various purposes. Here is all the details about Apply Qatar Visa Online.
In March 2017, they first introduced this system which enabled visitors to obtain their visas online instead of having to visit a Qatari embassy or consulate.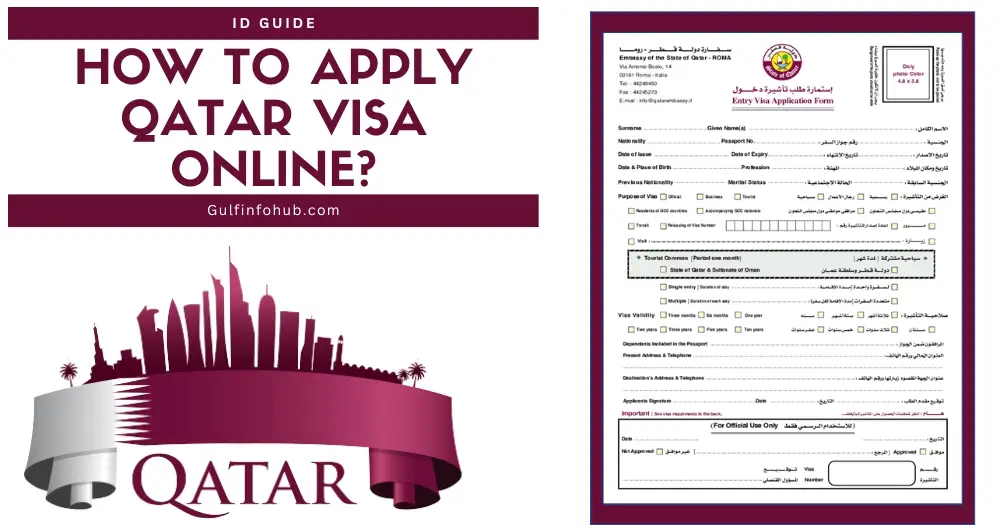 This single-entry visa permits travelers to lodge in Qatar for up to 30 days. it is accessible to 80 countries including the United States, the United Kingdom, Canada, Australia, and most European countries.
How to apply for a visa to Qatar?
A Qatar e-Visa is a virtual visa system which launched in 2017 to accelerate visa processing. Each visitor is eligible for a Qatar e-Visa, which simplifies visa processing. You are able to apply for a Qatari visa online, and if accepted, you will receive an email confirmation.
You can apply for a tourist visa online for a maximum duration of 30 days in Qatar, while for a transit visa, you can request online for up to four days. Middle Eastern visitors must have a valid passport and a printed copy of their authorized online Visa in order to enter Qatar.
The authorities will issue visas to applicants within five business days. You may check the status of your Qatar visa on Moi Qatar Visa Check.
Types and Required Documents for Qatar Visa
Tourist Visa Online:
Passport photos
Photos of candidate
Photo of a return or onward ticket
Passport bio scan
Confirmation from the airline.
If you are staying with a Qatari citizen, the invitation letter, Qatar resident visa copy, Qatar ID, and passport bio are necessary.
All utility bills with credit card details
A visit visa is valid for 30 days in Canada, the GCC, New Zealand, Schengen nations, the United States, and the United Kingdom.
Visas for GCC nationals:
Occupational proof might be requested.
Passports should be valid for at least six months.
Qatar offers 30-day visas.
GCC residents can stay for 90 days more.
Please print and carry your Qatar visa to the airport.
Qatar visas are exclusively valid for tourism.
E-Visas for travel do not permit work or immigration.
Qatar airline links
Qatar e-Visa Types
Qatar provides many sorts of e-Visas to travelers who want to enter the country:
Tourist Visa:
This type of visa has a validity for 30 days and is intended for travelers who want to visit tourist sites in Qatar.
Business Visa:
They issue this type of visa for a validity period of 30 days, and it is intended for business travelers who are visiting Qatar to attend meetings, conferences, or other business-related activities.
Family visit Visa:
This sort of visa is valid for 30 days and is appropriate for people who want to visit family members who live in Qatar.
Transit Visa:
This type of visa is valid for up to 96 hours and is suitable for travelers who have a layover in Qatar and want to tour the nation while there.
Education Visa:
This sort of visa is appropriate for students who want to go on with their studies in Qatar.
Medical Visa:
This sort of visa is appropriate for persons seeking medical treatment in Qatar.
Sports visa:
This type of visa lasts for 30 days and is intended for athletes or sports teams that want to compete in sporting events in Qatar.
Note: It must be noted that the eligibility and prerequisites for each type of visa may differ. For more information on each type of visa and its individual criteria, see the Qatar e-Visa website.
Qatar E-Visa Application Procedure:
To submit an application for a Qatar e-Visa, complete the following steps:
Visit the Qatar e-Visa website:
Go to the official Qatar e-visa website and choose the type of visa you want to apply for.
Fill out the application form:
Fill out the given form with all required info such as personal information, passport details, travel itinerary, and the purpose of your visit.
Upload required documents:
You need to have scanned copies of your passport for uploading, passport-size photos, and any related document that supports your visa type.
Pay the visa fee:
After submitting your application, now it's time to pay the fee. The fees for the visa may vary based on the type of visa, and you can make the payment using your credit or debit card.
Receive your e-Visa:
You will get your e-Visa through email when your visa application has been processed. You must print a copy of the e-Visa and keep it with you during your trip to Qatar.
Final word:
So from all the above-given information, you will be able to fill out an application form for Qatar E-Visa just you need to have a valid passport with six months validity and a printed visa to Qatar.